Buhari commission's new locomotives, coaches for Abuja-Kaduna rail service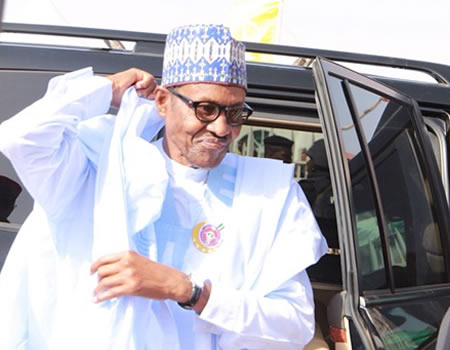 President Muhammadu Buhari on Thursday commissioned two (2) new locomotives and ten (10) new standard gauge passengers coaches for the Abuja -Kaduna rail service in a bid to boost the capacity of the rail route.
Speaking at Rigassa train station in Kaduna, the President recalled that he commissioned the Abuja-Kaduna railway service in July 2016, the country's first-ever standard gauge train service.
"Am glad that this service has become very useful for commuters and would soon become the preferred means of transport for the journey from Abuja to Kaduna".
Buhari reaffirmed federal government resolve to pursue with vigour railway development in Nigeria through the implementation of the 25 year strategic railway masterplan, stating that government would further focus on coastal rail like Lagos-Calabar with branches to Benin, Agbor, and Onitsha including Port Harcourt to Maiduguri standard gauge rail line with branches to Owerri, Akwa, Abakaliki, Yola, and Damaturu.
He noted that government would also focus on Kano-Kazure , Daura, Katsina, Jibya to link to Maradi in the Niger Republic as part of regional railway inter-connectivity of the ECOWAS sub-region.
Buhari said that the private sector would be encouraged to participate in the railway development as negotiations were on for the concession of the narrow gauge rails with a consortium General Electric. "We are looking forward to a more efficient railway service on the narrow gauge line to be driven by the private sector" adding that government is creating a conducive environment for participation by the private sector by strengthening the legal and regulatory framework
He reiterated government commitment to linking all major commercial and production centers by rail for rapid social economic development and improving the quality of life of the citizens and improving the national integration.
.
In his address, the Minister of Transportation, Rotimi Amaechi stated that the procurement of the two locomotives and ten coaches will ease movement at Abuja – Kaduna rail route.
"This is adding to the initial structure of the Kaduna railway by increasing the rolling stock comprising of two standard gauge locomotives that are here and ten new standard gauge executive passenger coaches".
Amaechi explained that government is committed to ensuring that the country has an efficient rail system. "This is indeed a clear demonstration of this government commitment to accomplish a functional and efficient national rail transport. Such commitment has brought us into tangible ongoing rail project".
According to him, "it will be recalled that the President flagged off commercial rail operation, the first Nigerian standard gauge rail which runs from Abuja in Idu to Rigassa in Kaduna in July 2016. This service has continued to be a success story and first as evidence that this government is committed to developing an efficient rail system that will meet the expectation of Nigerians".
"Today, this service (Abuja -Kaduna rail) has the first choice of commuters and businesses between the cities of Abuja and Kaduna with the volume of approximately 1280 passengers of two return way from Monday to Saturday".
The Minister explained further that, "this service has witnessed many incidences of stranded passengers at stations as the demand is far above what was available". Adding that it was in response to that effect that the federal government has procured new locomotives and new coaches.