Buhari administration is a disaster —Senator Bucknor–Akerele
Chief (Mrs) Senator Kofoworola Bucknor-Akerele, an astute politician and a former deputy governor of Lagos State during the first term of Senator Bola Ahmed Tnubu's administration marks her 80th birthday today. In this interview with AKINROLABU AKINDURO, she speaks on several issues, including her growing up years, her adventure in politics and the unending debate over the call for the restructuring of the country.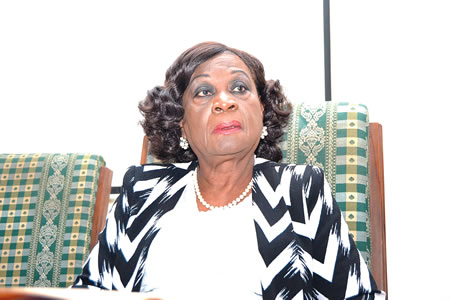 How was your growing up like?
My growing up was very simple. But I was largely brought up by my grandmother who was a strict disciplinarian. You could say I was born with the proverbial silver spoon in my mouth because my parents were okay, but that did not stop them from making sure that I learnt how to do the basic domestic assignments required of me. I learnt how to keep the house. I learnt how to cook and so on. Even till today, people are surprised seeing me doing all these things. I even know how to weave baskets and mats. All these things I learnt from my grandmother and incidentally, I was her only grandchild because I was the only child of my mother.
What motivated you to venture into active politics?
Well, my father stimulated my interest in politics because the Egbe Omo Oduduwa was founded in his house in London. My late father, Dr Oni Akerele, was the first president of the group while the late Chief Obafemi Awolowo was the secretary. My father was a great feminist who always felt that women should take a rightful place in the society.
You began your journey into politics on the platform of the progressives but you are now in the conservative camp. What informed your decision?
Well, it is not only me that took this decision. You will recall that so many of us were in the so called progressives' camp, including people like Senator Femi Okunrounnmi, Senator Wahab Dosunmu and so on. But we left the camp when we discovered that it had been hijacked by those Senator Dosunmu called the marauders. The party was taken over by these anti-progressives forces and so, we had no choice than to leave the camp. However, it was not all of us that went to the Peoples Democratic Party (PDP), because I did not know which party Senator Okunrounmu belongs.
Having said this, I will like to correct the impression that the PDP, which is the party I belong now, is not progressive. After all, the PDP is a party that advocates good governance in the country. It is a party which believes in the welfare of the people. It is a party which believes in using the commonwealth of the people for the overall development of their well being. That is what progressivism is all about.
Today, April 30, you will be 80 years old. What is the significance of this birthday to you?
Well, it is very significant to me because I never thought I would reach the age of 80 years, though I did not know the reason that made me to think so. However, here I am reaching the age with absolute peace of mind and total sense of fulfillment. So, the only thing I will like to do on this occasion is to thank God for His grace upon my life.
Before getting to this age, you would have encountered some challenges. What were these challenges and how were you able to surmount them?
One of the major challenges I faced in life was when I was the deputy governor to Senator Bola Tinubu. Then, he wanted to take over the party, but I refused to join him in that enterprise. As a result, I became his enemy whom he did all things to pull down. During this political crisis, all sorts of stories, which were always published in the newspapers, were concocted by him against me. They also went as far as lacing my office with charms. Although, while I did not know whether it was he that personally did that, all I knew was that my office was laced with fetish charms. So, being the only child of my mother, my mother and one of my cousins, Awise Salvage, came together and asked me to resign and I did resign from that government. Another challenge I faced was when my house got burnt in 2008. In that fire incident, I lost everything. I only came out with my night dress.
As an astute politician, how would say you have been able to contribute to the development of democracy in the country?
Well, I think being in National Democratic Coalition (NADECO) was one of the ways I helped in developing the growth of democracy in Nigeria. Through NADECO then, we had to face the late General Sani Abacha and his gangs with their guns. In the course of this struggle, some of us were assassinated, while many of us were jailed. I was one of the people detained in prison. I was detained with late Pa Adekunle Ajasin in Owo.
However, despite this persecution, we continued with the struggle until we were able to achieve our aim of restoring democratic governance in Nigeria. Though what we are seeing now in terms of democratic governance is not what we envisaged, at least, we are able to get the military out of the Nigerian political system.
Looking at the country now under President Muhammadu Buhari, what is your assessment of political development in the country in the last four years?
I think this administration is a disaster. It has rendered the country more insecured than ever. We are having more inter-ethnic conflicts than ever, and to worsen the whole case, the economy is in complete shamble with people getting poorer by the day. The administration is a disaster and this is highly unfortunate.
Looking back through your life, would you say you are fulfilled?
Well, I will say I am fulfilled because I was part of the people who were able to drag the military out of our system. But, I will not say I am completely fulfilled because this  this not the kind of the country we envisaged at all. We had hoped that the country would be restructured so that there will be progress in all the different sections of the country. To worsen the case, the current administration is not even giving consideration to the progressive thought of restructuring the country. This is very disheartening.
Why are you full of optimism that the restructuring of the country, as being canvassed, would permanently resolve all the problems facing us as a nation?
Yes, I am optimistic that if the country is restructured all the major problems confronting us would be addressed to the satisfaction of everybody. And I am saying this with every sense of responsibility because I partook in the national conference of 2014 organised by former President Goodluck Jonathan. If you look at the report of the conference, most of the problems confronting us as a nation were addressed and recommendations were made on them. The kind of restructuring we are advocating is that which will enable each state to independently govern itself. We strongly believe that if the states are allowed to govern themselves, without recourse to the Federal Government, the true development we have been advocating in the country would be achieved.