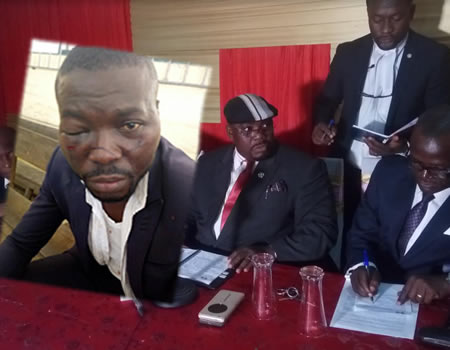 Tension is brewing between members of the Nigeria Bar Association (NBA), Warri and Effurun branches and the Delta State Command of the Nigeria Police over the alleged clubbing to a pulp Mr Bernard Oyabevwe by some overzealous men of the A-Division of the Nigeria Police, Warri Area Command.
Speaking at a press conference weekend in Warri, Delta State, chairman of the branch, Mr Godwin Ebowe, said the victim, Mr Bernard Oyabevwe, was brutalized, dehumanized and dragged on the floor by cops like a common criminal for no cogent reason.
The infamous incident, he disclosed, took place on the morning of June 5 at A-Division Police Station at the Warri Area Command headquarters when the victim went to Magistrate Court II in a matter between C.O.P VS NOSA IGIEHON.
Mr Ebowe identified one Corporal Collins Imade and one dreadlocks-wearing Oyinkasa Joseph also known as Kasojo with number 372964 as two of the overzealous cops that almost snuffed the life out of Mr Oyabevwe.
The victim, Oyabevwe, who was in pains from visible gashes and bruises in his face and other parts of his body,  recounts his moving, near-death experience in the hands of the killer-policemen at the A-Division thus:
"I was to appear at Magistrate Court II in a matter that was coming up that morning between C.O.P VS NOSA IGIEHON.
"Meanwhile, I have another matter that same morning at High Court 1 which was not going on because the court is not sitting.
"So, I rushed to High Court 1 to see if I could take a date with counsel on the other side. Before I got back to the Magistrates Court II, EFCC had arrested my client who is the Defendant in the matter and taken him to "A" Division, Warri.
"In fact, I was informed by the Prosecutor and the I.P.O from Zone 5 that he was forcefully taken from the court by the EFCC officials.
"Being a counsel in the matter and owing to the fact that my client tried frantically to get access to me on the phone while being forcefully taken away, I took the case file for the matter while holding my wig and gown and dairy in my hand and went to "A" division.
ALSO READ: Customs shoot 8 months old pregnant woman in Ogun
"On getting there I saw my client and his wife behind the counter. When they saw me they approached one of the EFCC officials who was standing close to them (armed) and told him that I am their lawyer, but he ignored them and beckoned on his colleagues to start moving my client and his wife but they started resisting and struggling with the EFCC men.
"But I intervened and adviced them not to struggle or resist but go with them peacefully. This they did and immediately followed the EFCC men to the waiting vehicle.
"When they had entered the vehicle, I requested to speak with the EFCC team leader but none of them came forward. In fact, at this point, they became very aggressive and threatened to beat me up.
"One of them who was wearing a T-shirt told me that he will slap me, while the others were pushing me with their guns.
"This actually infuriated me and I demanded to know which zone of the EFCC they were from and where they were taking my client; without answering me, they entered their vehicle and drove off.
Because I was standing close by the side of the vehicle, when the driver of the vehicle turned the steering wheel, I stepped onto a slab close to where the vehicle was parked. But one policeman, on a uniform, pushed me from behind as if to push me into the moving vehicle.
"I turned after I had gained my balance and asked him why he did that, but he started shouting at me that, that place was not a court, but a police station that I should get out at once.
"I was completely taken aback by this action that I was forced to ask him what I had done. But immediately I asked that question, he became aggressive and actually held my suit (seizing it tightly) around my neck, while he was holding his gun with the other hand and started dragging me towards the gate.
"Because I was holding my wig and gown, the case file and my diary in my hands, I couldn't struggle with him, but when his grip became stiffing, I used one of my hands to hold my things against my body, then used my free hand to get his hand off my neck.
"When I had done this, the other officers around, who had been hitherto watching and raining abuses on me all the while started shouting at me, pulling, dragging and trying to snatch my wig and gown from my hand.
"Then, the one that held me before came forward again, this time pointing a gun at me and threatening to shoot me that I dared to struggle with him. I actually shouted at him this time to shoot me if he could, then I turned and started walking towards the gate but all the policemen there became furious and started saying why would I shout on a station guard like that.
"I ignored them and continued walking towards the gate, but the next thing I got was a heavy blow on the back of my neck that knocked me forward and I fell, but before I could stand up all the policemen started raining blows on me.
"One of them used the butt of his gun to hit my eye and blood started gushing out, I could not defend myself against them because they were many and coming at me all at once; more so, I was holding my wig, gown, file and diary on my hands.
So, I started struggling to get out through the gate as they continued with their attacks, but eventually, I got out and ran to the court. Not done, the station guard came to the court fully armed and seized me and started dragging me back to "A" Division, saying that the D.P.O wanted to see me.
"Then another officer in plain clothes, who is dark-complexioned and huge, came and slapped me in the face, then pulled out a pistol, pointed it at my head with one hand, and with the other hand held me and started dragging me back to the Police Station while he was threatening to shoot me with the pistol he was holding.
"While the assault lasted, I had lost my iPhone and N50,000 (Fifty Thousand Naira).
"When he brought me to the station, another policeman, who, by all indications, was senior to him, and whom I later discovered was the D.P.O, ordered them to take me in and deal with me.
"At that point, they took me to the counter and all of them in one accord started beating me, clubbing me with hard objects, in fact, the one with the pistol actually slammed his weapon against the side of my head and I became unconscious.
"When I woke up, some persons were kicking me, asking me to tell them my name and I pointed to my diary, and they took it and copied my name from it.
"The policewomen at the counter continued raining abuses on me,    asking me how much my client paid me to come and destroy the Police Station!
"By this time, I was bleeding all over and coughing up blood and one of my eyes was swollen over and my clothes were torn.
"Eventually, I was told to write my statement but I couldn't because I was too weak, bleeding, coughing up blood and feeling pains all over me.
"I couldn't even see properly, after some time, they came and took me to the office of the Admin Judge High Court Warri, where they informed the Judge that the CP has directed that I must be charged to court.
"Then I was taken back to the station and I wrote my statement and was charged to court.
"Members of the Warri Bar took up my representation en mass and I was released on bail on self-recognizance and the matter was adjourned to the 13th day of June 2018 for trial."
A witness of the beating, Mr Mike Asugo, another lawyer also corroborated the narrative of the victim to journalists, adding that the attack was premeditated.
According to him, after Mr Oyabevwe was clubbed to a pulp around 9:00 a.m. on June 5, amid profuse bleeding, he was denied being taken to the hospital for treatment by his colleagues until after he was charged to court and granted bail at around 2:00 p.m.
Meanwhile, the NBA chairman, Warri branch, Mr Ebowe along with other members from Warri and Effurun branches, has called for a full investigation into the alleged brutality.
He accused the DPO of A-Division, the Warri Area Commander, ACP Mohammad Shabba, Warri Area Command and the Delta State Commissioner of Police, CP Muhammad Mustapha of complicity in the inhuman treatment meted out on the battered lawyer.
"The DPO said he was instructed by the Area Commander to lock him up and charge him to court while the Area Commander said he was instructed by the CP to do so.
"We're now calling on the IGP, Ibrahim Idris, to call the Delta CP to order and be removed from office, outright, ditto the Area Commander and the DPO that masterminded the brutality," the NBA boss stared.
He also insisted that the ousting of the DPO, area commander and the CP was predicated on the fact that they were no longer fit to be in the Nigeria Police based on their anti-democratic disposition to the civil populace.
Describing the alleged incident as unfortunate, but spurious, Police Public Relations Officer (PPRO), DSP Andrew Aniamaka, told Nigerian Tribune on the phone that the victim, under the influence of transfer of aggression, actually assaulted the police.
"My brother, policemen cannot beat up a lawyer to a pulp. We have a good working relationship in the state. And it's our duty to protect the populace, lawyers inclusive.
"The lawyer himself, perhaps from what I may call transfer aggression, assaulted the policeman. Earlier, he was with the EFCC which had, against his interest, made away with his clients despite his protestation.
"And when he was fuming and becoming physical about it, the policeman told him to go seek redress in the court instead of filing around the police premises.
"That was how the policeman was assaulted by the lawyer. Suffice to say that the matter has been charged to court for serious assault and engaging in a conduct likely to cause the breach of public peace," DSP Aniamaka averred.
Nigerian Tribune reports that lawyers from across the state are mobilizing colleagues for the trial of the matter which comes up Wednesday, June 13, 2018.
---
---