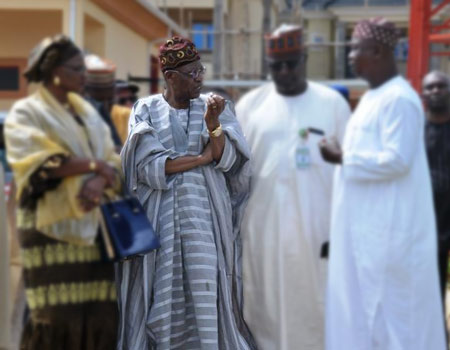 The Federal Government has announced its readiness to roll out the Digital Switch Over (DSO) in broadcasting in all the six geo-political zones in the country in the next few weeks, as a practical demonstration of its commitment to the DSO project.
The Minister of Information and Culture, Alhaji Lai Mohammed, made the announcement in Quincy, U.S., on Tuesday during a meeting with the executives of Gates Air, a market leader in transmission solutions for broadcast network operators.
The Minister said the DSO, which was first launched in Jos in April 2016, is ready to be rolled out in six states across the country – Kaduna, Kwara, Delta, Enugu, Gombe and Osun – covering the six geo-political zones.
He said the switch over from analogue to digital television is "irreversible" because the DSO is a "game changer" that will bring immense benefits to Nigerians and help the government to achieve one of its cardinal goals, which is the diversification of the economy.
Alhaji Mohammed said the meeting with the US Company, which is a key player in the DSO process, further confirms the government's commitment to the project, which has also been launched in Abuja.
"The DSO is very important to this Administration, because of the limitless potentials that it represents. For us as a government, DSO goes beyond just receiving digital transmission but an avenue to create jobs and ignite the huge creative potentials of our youths. It is also a solution to some of the intractable problems affecting the Creative Industry, including piracy and distribution," he said.
The Minister, who led a Nigerian team that includes the Chairman of the House of Representatives' Committee on DSO, Hon. Sunday Katung, and the Director-General of the National Broadcasting Commission (NBC), Malam Ishaq Kawu Modibbo, inspected the facilities at the company's sprawling factory, where several equipment meant for the DSO roll-out are currently being manufactured.
"Seeing some of the equipment being shipped to Nigeria for the DSO project has reinforced our belief in the ability of Pinnacle Communications Limited (one of the two signal distributors for the project) to meet its roll-out targets," he said.
The Chairman of the House Committee on DSO said he is in Quincy, home of the 95-year-old Gates Air, as part of efforts to ensure that the DSO process goes smoothly.
"We seem to be heading in the right direction, after several misses, and I can now confidently speak on the project when I return to Nigeria," he said, describing Pinnacle Communications Ltd and Gates Air as reliable partners.
Also speaking, the Director-General of NBC Malam Modibbo assured that the DSO project will be delivered on a modern platform because of the wonderful partnership involving the Ministry of Information and Culture, the NBC and the signal distributors.
Modibbo described as a source of pride the benchmark set with the Abuja roll-out of the DSO in December 2016.
Welcoming the delegation to his company, the Chief Executive Officer of Gates Air, Mr. Phil Argyris, assured of the company's readiness to work with Nigeria to ensure the success of the DSO project, saying: "We never let our customers down."