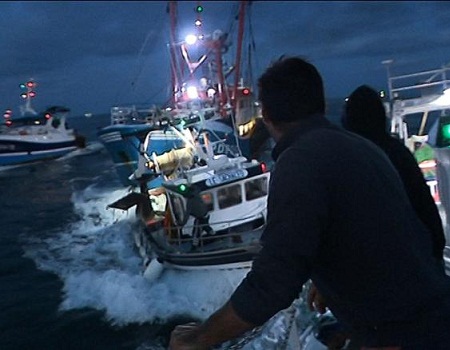 FRENCH and British fishermen clashed in the English Channel Tuesday in the latest instalment of the long-running "scallop war."
Video of the incident broadcast by France 3 Normandie showed smoke bombs and rocks being thrown at British crews, while a number of boats appeared to be rammed.
The five British boats, greatly outnumbered by an estimated 35 French vessels, were chased from the scallop-rich Baie de Seine area off Normandy, maritime official Ingrid Parot told AFP.
"We're trying to push the English out because if we allow them to carry on they'll pillage the area," French fisherman Anthony Quesnel says in the video.
ALSO READ: The murdered traditional ruler in Ekiti
"We have quotas, we have hours and they have nothing, no quotas, seven days out of seven they fill their boats. They come, they dredge and they fill their vessel and they go home. They work a month earlier than us and they leave us the crumbs," he added.
The skirmish took place 12 nautical miles off the Normandy coast where British crews are allowed to fish all year round, while their French counterparts are restricted to a shorter harvesting season from October 1 to May 15.
"I condemn the violence on both sides though the English did have much bigger boats than we did," Normandy fishing chief Dimitri Rogoff told CNN.
"The French were just trying to push them up north. Yes, legally they're (the British) allowed to be there but we contest this right. There's a Common Fisheries Policy and on the French side we have quotas but for the English it's open bar!"
The French feel British fishermen are attempting to deplete stocks before the start of the harvesting season. The problem has grown worse over the past 15 years as British boats have increased their catches considerably.
While the two sides have reached agreements over the past five years, the French blocked a deal this year, he added.
---
---