BREAKING: APC scores highest votes as INEC announces final Bayelsa gov election results – #BayelsaDecides2019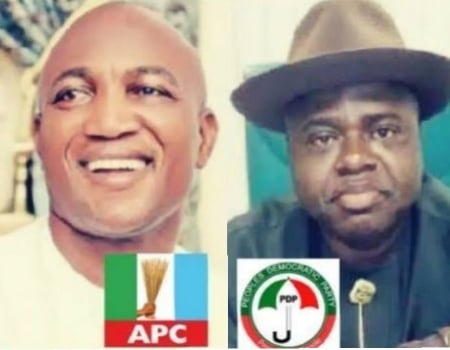 The All Progressives Congress (APC) fielding David Lyon, as its candidate has scored the highest votes as the Independent National Electoral Commission (INEC) released the results of the last Local Government counted in the Saturday governorship election.
As announced by INEC for Ekeremo Local Government, the number of registered voters was said to 125,189 while accredited voters were 41,423.
In Ekeremo Local Government, the APC won, polling 21,489 votes while the PDP polled 18,344 votes.
Bayelsa State has eight local government areas, and in all, a total of 45 parties are took part in the election which was seen as seen as keenly contest between Duoye Diri of the People's Democratic Party (PDP) and the David Lyon of the APC.
Below are the final results as announced by INEC:
1. Southern Ijaw
APC: 124, 803
PDP: 4, 898
—
2. Ogbia LGA
APC: 58,016
PDP: 13,763
—
3. Yenagoa LGA
APC: 24,607
PDP: 19,184
—
4. Brass LGA
APC – 23, 831
PDP – 10, 410
—
5. Kolokuma/Opokuma LGA
APC: 8,934
PDP: 15,360
—
6. Nembe LGA
APC: 83, 041
PDP: 874
—
7. Sagbama LGA
APC: 7,831
PDP: 60,339
—
8. Ekeremo LGA
APC: 21,489
PDP: 18,344