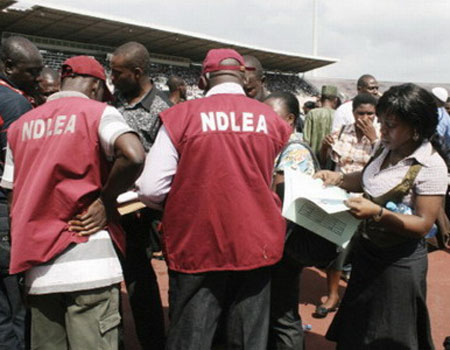 BORNO State Commander of the National Drugs Law Enforcement Agency, NDLEA, Joseph Iweanunawa has raised an alarm over the high rate of drug usage in some camps of Internally Displaced People (IDPs) in Maiduguri.
Commander Joseph regretted that some of the camps have not only become consumption centres but a large chunk of them have on the spot uniformed personnel dealers helping in the circulation of the banned substances to these vulnerable people.
"From our findings, it is sad that some uniformed personnel have been seen serving as couriers for the IDPs who have become dependent on the drugs possibly as a result of their present psychological situation.
"It is also sad that our hands are a bit tied in dealing with the consumers who are IDPs because of the situation they find themselves regardless of the Kampala convention," said commander Joseph.
The commander told newsmen in Maiduguri that he was worried about the development and would do all he can to stop the excesses of these culprits who abuse their uniforms to serve as destructive couriers to these IDPs.
Reviewing his 2017 activities, he revealed that a task force has been reconstituted to handle some of these excesses in conjunction with relevant agencies in the state capital but they are yet to start serious operations.
Commander Joseph said that a total of a hundred and thirty-two suspects who will soon be facing trial have been arrested with various kinds of prohibited drugs on their counters mostly in Maiduguri
The suspects were arrested with an aggregate of 7.334kg and 3.8gms of cough syrup with codeine which has been confiscated as exhibits for prosecution.
Other seizures include 17.865kg of cannabis, 23.820kg of Tramadol, 4.018kg of D5/Diazepam, 582gms of Exol, 232.6gms of quinine and 195.6gms of Ergometrine.
ALSO READ: Suspected Boko Haram attacker arrested in Germany
Incidentally, all the culprits are males who were also found with Pentazocine 111gms, Amitriptyline 74.6gms, Cough syrup with Codeine 35.85gms, Rohypnol 235.6gms, pentobarbital 16.4gms and, co-codamol 193.5gms.
Reacting to the litany of woes affecting the NDLEA in the state, Commissioner of Justice, Barrister Kaka Shehu said that after the reconstitution of the task force by the state executive council, some directors were posted out of the drug committee which had a major effect on management of illicit substances in a state where insurgents thrive on hard drugs.
"When Boko Haram started, the committee had to slow down its operation and wait for a safe period to work. After the restoration of peace at least in the state capital, the committee continued. I gave them a lawyer who would serve in that committee. But I can't easily tell you about the latest developments." said Kaka Shehu in a recent interview with the Tribune Online.
Repentant insurgents, some of who are in IDPs camps have alleged that most suicide bombings are carried out with the inducement of drugs backed by a special injection that makes them drive themselves to death in the guise of fulfilling the cause of their masters depending on which faction they find themselves.
All the three Boko Haram factions live and thrive with hard drugs which are part of the ingredients used to radicalise their loyalists especially those who volunteer to be used as instruments of suicide bombings sometimes right at the doorstep of the NDLEA office.
The ramshackle office of the NDLEA which is also along the Muna garage corridor in the outskirts of the state capital needs serious attention for top class rehabilitation to be institutionalised to enable the myriads of IDPs and residents who have become psychologically knocked down by dangerous drugs to return to normal life.