Born by Oyo parents at notorious Ikorodu garage, honoured by Ekiti icon: Story of Mary Adeyemo, ABUAD's First Class Law graduate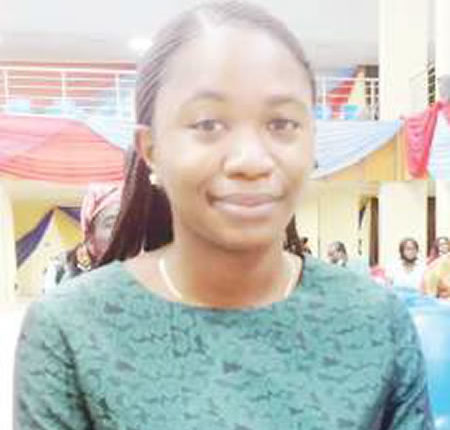 Mary Adeyemo, a First Class Law graduate of Afe Babalola University, Ado Ekiti (ABUAD), was recently offered a direct admission to study for a PhD by Oxford University in England. Following this honour brought on ABUAD by her feat, founder of ABUAD, Aare Afe Babalola (SAN) offered Adeyemo a full scholarship to cover her entire stay and study in the premium university. Miss Adeyemo told her story at a ceremony where she was honoured at the ABUAD campus in Ado Ekiti. SAM NWAOKO brings excerpts of her interaction with newsmen.
Were your parents such that you could say your status was secure… what's you background like?
My parents are Mr and Mrs Kunle Adeyemo. I was born in Ikorodu, I was given birth to at the popular Ikorodu Garage. Most people around me as I grew up were either teenage mothers or girls who had teenage pregnancies or were sorts of trouble the society. But I've always believed that my background cannot put me to the ground and that I am a special person to my generation once I put in the work.
Could you tell us more about being born at the Ikorodu garage?
Yes, I was born at the Ikorodu Garage. Ikorodu is known with a lot of social vices. One popular example is the Badoo Cult. I grew up with the reality of 'taking over a garage' which involves a lot of shooting and killing and all those issues. However, despite being given birth to in the garage, I survived. I think God has a plan for me, that is why I was not hit by any stray bullet and I am here today entirely by the grace of God.
Are you a native of Ikorodu?
No, I am a native of Fiditi in Afijio Local Government Area of Oyo State. However, I was born in Ikorodu, had my primary and secondary education in Ikorodu before I came to ABUAD in Ekiti State. I attended Perfecta International Primary School and Stars International Secondary School both in Ikorodu. My father, a Chartered Accountant retired from Peugeot Nigeria Limited while my mother is a Civil Servant.
How did you come about studying Law?
I think it's my society in school. My parents are the first graduates in their family and they are not lawyers. I've always been outspoken, fighting for the rights of people around me; not understanding or appreciating unequal systems and so, I think my association imputed in me the responsibility of studying law. And I do not regret that decision.
At what point did you discover or see yourself as a brilliant student who would excel in education?
I think it was in my secondary school. In my primary school, I was just a normal student and it was the same in my secondary school. I was just a normal student while my late brother got prizes in Mathematics and in a lot of other subjects. I got prizes only in debates. I was good at it. I think my parents saw that in me and nurtured it.
What do you think propelled you to the top of your class in ABUAD?
I think it was my last year in secondary school. On the prize-giving day, they kept on calling the name of a friend of mine. I just told God that I desire this kind of reality too. When my father drove me into ABUAD in the morning of September 17, 2012, I said in my mind that I can actually become one of the best graduating students. But I did not think that I could be the best graduating student. In 100 Level, I was not the Number One in my class, I was not even among the first 10, but I had a 4.75 result. And because I was outspoken, many people thought I was just an average student. But in 200 Level, it changed. I had a 5.0. When I saw the reality and the possibility, it just encouraged me and from there, I became the best student in my class. I was always teaching tutorials to my friends and my juniors, which made the Law Students Society give me the title of the Chairperson of the Academic Committee because we experienced more than 30 per cent growth rate in the excellent grade in the result of students via the free tutorials we organised for students.
How many of you are in the family?
In my nuclear family we are four children, but my elder brother, Adewale Adeyemo, passed on some years back. In his honour and memory, I give Law students scholarship in ABUAD. During the convocation I give scholarship in his memory because he died as a result of medical negligence in Nigeria. The scholarship goes to the best student in Medical Law. It's called the Adewale Adeyemo Memorial Prize.
How do you fund the scholarship?
I fund it personally. I am a practising lawyer in one of the top law firms in Nigeria, Banwo and Ighodalo. I am one of the first set of ABUAD graduates to get into such a big firm even though we had been told that it was impossible. But impossibility does not exist with me; I believe that resilience is one of the key ingredients in life. If you had failed in something before, that doesn't mean that you will continue to fail.
Apart from group study and tutorials, do you have a study pattern or a particular routine you follow in your study?
I think the key was just to understand myself, because more than being an academic person I'm always interested in impact. I always tell my friends and my juniors that people will not remember you for the grades that you had; people will remember you for the impact that you make. So, more than my academic routine in ABUAD, even after four years, I'm still friends with the janitors, with the people that sell food; I'm still friends with the security guys. I am not alien to this community. I think it is the level of impact that you make in the society around you that you will be remembered for. My routine is listening and understanding in class, explaining to my friends and anyone that comes to me for help and the more you share knowledge, the more you realise that you know or learn more.
What was it like for you in the Law School?
I didn't hit my target at the Law School, but I made a 'B' Grade. I felt that B Grade in the Law School was a failure to me. It was like the end of the world for me, but failure is yeast to success. It is never too late to start, whether you are 40, 10 or 50.
What is your plan for the future – Academics or practice?
I think giving back to the society is very important to me. Education is the most important tool to change the world but beyond education, giving back to the society, teaching people strategies to life are also important. Success is a destination but the journey to getting to that destination is what I think I need to share with people; the strategies I've used that have worked for me and I also benefit from. In the long run, I want to be the one of the most renowned legal practitioners in the world, not just in Nigeria or Africa because jurisdiction or geographical location is just a thing of the mind.
How did Oxford University come about?
I've never been to Oxford. I was discouraged from applying because I don't have a Master's Degree, but I just thought even though the odds are against me what does it cost me to put in my application and I did.
You applied to be a PhD student?
Yes, and I was surprised to have been considered because they have only 49 slots every year for applicants from around the world. While applying, I put Afe Babalola University but my university's name did not pop up, which meant that I was in 'others'. That told me that they were yet to recognise us. But now, coming from ABUAD, it means that I am a kind of pathfinder. I am a pathfinder, not just to myself because I am the first from Afe Babalola to go there, but I will work hard and I certainly believe that I will not be the last.
No powder. No make-up, no fixing of nails and so on… what is your social life like?
I have a good social life. Like I said, I was in the Students Representative Council, I had several meetings with the school management where we agree to disagree on issues of welfare of students and I always know we are social animals and we must socialise. In the journey of life, you have to be street smart; you have to be holistic – academically, spiritually, socially – even in your character. So, it is not sufficient to just be an academic person without being a social person because what you carry in your head is to be expressed to the world. So, definitely you must be a social person.
Who is your hero, or who are your heroes?
In the legal profession, Aare Afe Babalola to be honest and a plethora of other senior lawyers, like my Senior Advocate in the office, Mrs. Akeredolu Abimbola. I really appreciate her commitment to ensuring that young lawyers like me grow. Aare Afe Babalola taught me Law of Evidence in class which I thoroughly enjoyed. Also, he is one of the reasons why I am where I am today. If he did not catch the vision to start the university, I will probably not be here today.
YOU SHOULD NOT MISS THESE HEADLINES FROM NIGERIAN TRIBUNE
We Have Not Had Water Supply In Months ― Abeokuta Residents
In spite of the huge investment in the water sector by the government and international organisations, water scarcity has grown to become a perennial nightmare for residents of Abeokuta, the Ogun State capital. This report x-rays the lives and experiences of residents in getting clean, potable and affordable water amidst the surge of COVID-19 cases in the state…
Selfies, video calls and Chinese documentaries: The things you'll meet onboard Lagos-Ibadan train
The Lagos-Ibadan railway was inaugurated recently for a full paid operation by the Nigerian Railway Corporation after about a year of free test-run. Our reporter joined the train to and fro Lagos from Ibadan and tells his experience in this report…