Boko Haram: Volunteer more information, we will catch Shekau ―Defence Chief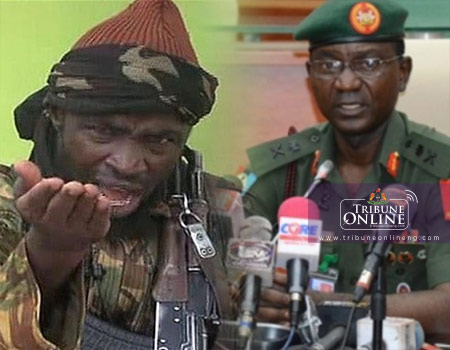 The Chief of Defence Information, Major General John Eneche has called on the people of the north-east war theatre to volunteer information that would assist security personnel in finally nipping the insurgents in the bud.
Eneche who spoke with newsmen after a marathon meeting of the Chief of defence staff, Gabriel Olonisakin, Air Chief Sadiq Abubakar and Army Chief Tukur Buratai said that they were in Maiduguri in response to the directive of the Commander-in-Chief to put an end to Boko Haram.
The information Chief said that the management upgrade sessions being held against terror will be an ongoing template but they surely need more information on terrorists' sleeper cell locations, terrorist concentration areas and output locations.
The spokesman also called on the public to "expose collaborators and informants and watch out for suspicious habitations and living quarters within rural and urban centres where insurgents can hide.
"Suspicious isolated settlement and camps outside normal areas are also to be under surveillance by the people living in the theatre."
Relating with newsmen during a post-meeting press conference, he noted that the army has about fourteen theatres where their presence is felt in such areas which is why the Chiefs by way of the matching orders of the commander-in-Chief will give more airtime to this place.
He assured that the military will be involved in the Kinetic aspects of the warfare and will leave the non-kinetic to the other arms of the services to handle.
General Eneche vowed that the main kingpin of boko haram Abubakar Shekau will surely be captured at the fullness of time.