How biotechnology can help Nigeria reduce agricultural import bill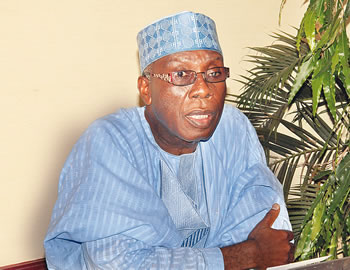 Currently, Nigeria has been spending huge amount of money importing basic food items which can be produced and processed locally.
The Minister of Agriculture and Rural Development, Chief Audu Ogbeh recently said that Nigeria spends as much as N7 trillion ($22 billion) annually, importing food items into the country.
This situation is unfortunate because Nigeria ends up creating markets and jobs for the farmers in the exporting countries while the farmers in Nigeria who can actually produce the same food, if supported, wallow in poverty.
Most of these countries that Nigeria runs to for food had long ago adopted biotechnology in agriculture which helped them improve their yield.
Genetically Modified Organisms (GMOs) which are a critical component of biotechnology have been proven to be the technology that will help improve agricultural productivity, eradicate hunger, grow the economy and improve the livelihood of farmers.
Rice
Since Nigeria has been skeptical in adopting the technology, it has been spending N517 billion annually importing rice. The Ministry of Agriculture requested N2.98 billion to fight army worm infestation on Maize production; it also spends $4 billion annually importing textile materials and so on.
These products are being imported into the country due to inability of the country to produce enough to meet the local demand, which is largely caused by non-availability of good seeds for farmers.
In Nigeria, a total of 7 million metric tonnes of rice is consumed annually, while a total of 2.7 million metric tonnes is produced locally by the farmers. That means about 4.3 metric tonnes is imported into the country to meet the local demand.
Rice production in Nigeria has suffered serious setback due to certain climatic conditions which are not favorable to rice production, and the inability of the farmers to access fertiliser to improve soil nutrient or improved seeds.
It is against this background that the African Agriculture Technology Foundation (AATF) is currently working with partners to introduce and disseminate the Nitrogen-Use Efficient, Water-Use Efficient and Salt Tolerant (NEWEST) rice.
Soil nitrogen deficiency has been cited as a major constraint to rice production. Nitrogen deficiency is mostly acute in the highly weathered upland areas where an average yield of only one tonne per hectare, which is about 25 per cent of yield potential, has been recorded.
A major concern that constrains rice production in nitrogen deficient soils is the inability of farmers to buy fertilisers to address this constraint; and when they buy, they can hardly afford the required application rate for optimal yield.
The aim of the Nitrogen-Use Efficient, Water-Use Efficient and Salt Tolerant (NEWEST) rice project is to develop and disseminate farmer preferred and locally adapted rice varieties with enhanced nitrogen-use efficiency, water-use efficiency and salt tolerance.
AATF is working with partners to develop and disseminate this farmer preferred rice varieties with enhanced nitrogen-use efficiency, water-use and salt tolerance.
The benefits of NEWEST rice project include production of additional 1.3 million tonnes of rice in Africa each year, reducing the current deficit by 10 per cent. Self-sufficiency in rice will redirect limited foreign exchange used to import rice.
If the Nigerian government facilitates the adoption of this NEWEST rice project, the 4.3 million metric tonnes of rice deficit in the country will be covered, and the N517 billion spent on rice importation annually will be saved and channeled into other sectors of the economy.
Maize
Army Worm in the recent past became a nightmare for maize farmers in Nigeria as it ravages an entire farm in hours.
According to the Deputy Director of Horticulture in the Nigeria's Ministry of Agriculture and Rural Development, Mr Mike Kanu, the pest if not controlled could cause 90-95 per cent severe damage on maize within 48 hours.
This pest had become a yearly visitor to the Nigerian maize farms, damaging farmers' investments. This year alone, a total of 22 states were affected in its recent attacks and the Ministry of Agriculture requested for N2.9 billion for the containment of the pest.
This N2.9 billion will be used to procure chemicals to control the pest and possibly be used to carry out sensitization of farmers across the country. But the question is how long are we going to continue budgeting money to contain the pest and can't we find a permanent solution to the pest?
The Water Efficient Maize for Africa (WEMA) Project is a Public-Private Partnership that started since 2008, to develop and deploy royalty-free, African drought tolerant and insect-pest  protected (climate-smart) white maize varieties for small scale farmers.
This maize variety was basically developed for drought tolerance, but during the outbreak of army worm in Africa, it was discovered that the maize was unintentionally resistant to army worm.
The project is currently being implemented in six countries in East and Southern Africa including Ethiopia, Kenya, Uganda, Tanzania, Mozambique and South Africa.
Nigeria is not a beneficiary of this technology because it has not yet shown interest in adopting the technology to fight army worm, yet it spends billions of naira fighting the pest.
According to the scientist in charge of WEMA at AATF, Dr Sylvester Oikeh in a recent interview with Nigerian Tribune, "We have visited the Minister of Agriculture in Nigeria to let make him aware of this technology and tell him that we are developing another phase of the project which is called the Tela Maize which is basically transgenic, and the minister showed interest.
"In this new project of transgenic maize, before a country will participate, it has to show interest, so we urged the Nigerian government to express interest and benefit from this technology by writing a letter to the investor that there is interest from the government of Nigeria. The whole idea is that they want commitment, they don't want to invest when the government is not committed.
"So, my prayer is to have the government of Nigeria showing interest by writing to the investor declaring their interest to promote the technology. The moment we get that,  we include Nigeria and the Tela Maize will be deployed to Nigeria to protect against army Worm.
So, it is pertinent that the Ministry of Agriculture take appropriate steps to get this maize variety in the hands of farmers, and save the N2.9 billion or more it will spend pending when this pest visits maize farms in the future.
Cowpea
According to the National Coordinator, USAID-sponsored Cowpea Outscaling Project, Dr Nafi'u Abdu, Nigeria needs 2.6 million metric tonnes of cowpea annually, but it produces about 2 million metric tonnes, while 600,000 tonnes is imported to compliment the local production in order to meet up with demands.
Poor seeds and weather conditions have been a contributory factor to why Nigeria which is one of the major producers of cowpea, still imports the product to meet local demand.
Also, many factors both biotic and abiotic have been reported to have greatly reduce cowpea productivity in Nigeria.
The pod borer (Maruca vitrata) which perennially damages cowpea pods in the farms is among the major constraints faced by Nigeria in cowpea production. 70-80 per cent damage is recorded in severe infestation.
Farmers in Nigeria have not adopted the use of insecticide for controlling the pest due to financial constraints, as the chemical is expensive for the farmers to purchase.
Meanwhile, it was learnt that the farmers who have adopted the insecticide or chemical control method have been exposed to serious health hazards.
The deployment of a cowpea product that is capable of protecting itself from attacks by Maruca will make it easier and cheaper for farmers to produce cowpeas in areas where this pest is a problem.
The aim of the Pod-borer Resistant Cowpea Project is to develop and disseminate farmer-preferred and locally adopted Maruca-resistant cowpea varieties in sub-Saharan Africa.
The Pod-borer Resistant Cowpea Project is a Public Private Partnership coordinated by AATF to promote technological interventions that will optimize cowpea productivity and utilization in Sub-Saharan Africa, which Nigeria is part of.
The partnership is about developing and testing cowpea varieties with a genetic trait that would make the plant resistant to the borer and at the same time provide farmers with an alternative to costly and hazardous insecticide spraying.
The project further aims at transferring the BT gene, which confers resistance to the pod, into improved cowpea varieties.
Currently, the project is being implemented in three countries in sub-Saharan Africa which includes Nigeria, Burkina Faso and Ghana.
The project is also conducting studies on safety for food, feed and environmental risks assessments for regulatory approvals in the target countries before them seeds are released to farmers.
If this cowpea variety is adopted by Nigerian farmers, the 600,000 metric tonnes deficit in cowpea production will be bridged, and the environmental effects of chemical usage in farms will also be reduced and the farmers will have physical cash in their hands.
Cotton
It has been reported that Nigeria spends about $4 billion importing textile materials, but BT cotton which has helped Burkina Faso in their textile industry could also help Nigeria in saving the $4 billion and channel it into other things.
Nigeria is targeting to improve its textile industry, but the current cotton variety used by farmers cannot help in such expected industrial revolution, instead, the government is encouraged to adopt the use of BT cotton which has helped improved the textile industries of some countries, to also help Nigeria's textile industry.
From all indications, it is obvious that the Nigerian government needs to expedite actions towards the adoption of biotechnology in order to grow the agricultural sector.