Billiri Commission of inquiry submits report, receive 181 petitions, memoranda
•As Governor Inuwa promises thorough analysis, implementation of recommendations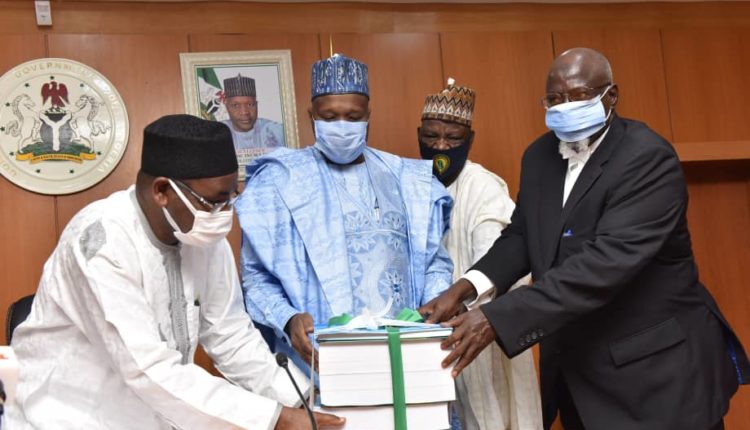 The Commission of Inquiry into February Billiri Violent Protest has submitted its report to Gombe State Governor, Muhammadu Inuwa Yahaya, six months after its inauguration.
Submitting the report on Wednesday, Chairman of the Commission, Retired Justice Mahmoud Gurama said that a total of 181 petitions and memoranda were received out of which 154 were heard and determined while 27 were struck out for want of merit or outright withdrawal by the petitioners.
The Jurist told the Governor that the Commission had to ask for more days considering the tremendous response from the people of Billiri Local Government, the security, and other agencies in the State.
He, therefore thanked Governor Muhammadu Inuwa Yahaya for finding them worthy to serve and also appreciated other Government functionaries, security agencies, and the media for their support while the commission's sitting lasted.
Receiving the report, Muhammadu Inuwa Yahaya assured that the recommendations contained in the report submitted by the Commission will be thoroughly analysed and implemented to guard against future occurrences.
The Governor remarked that the crisis that led to the setting up of the Commission of Inquiry constituted the greatest challenge his administration had faced in the last two years and four months of its stewardship.
He said that "And we take it as something that has been predetermined by God because is only God that guides and controls whatever that happens to humanity".
He also regretted the level of primordial attachments some people harboured that could even lead to the destruction of lives and property of their brothers and sisters.
He assured that his administration will carefully study the matters and the circumstances that led to the violent crisis so as to guard against future occurrences while imposing sanctions where necessary to maintain the excellent relationship going forward.
The Governor said that " I am not surprised my lord that it took you this long to go through this process because the enormity of the task is very high and not only that, as a Justice of a high court of Bauchi State then, you were among those thorough and very diligent jurists on your job so also all the members of the commission".
He also revealed that members of the commission were chosen based on their individual track records and the trajectory upon which they built their career of always ensuring that issues of public interest are laid bare without prejudice.
He added: "Let me say that any assignment done to this level by men that are really very thorough in life is something that we should behold and is something that we must work with. So the time that you put in preparing this report will not go in vain and will not be wasted because we shall go through this report and make sure that the recommendations are properly implemented so that we will avoid the pitfalls that we went through in our lifetime going forward".
The Governor used the occasion to thank the people of Billiri Local Government and management and staff of the Ministry of Justice and the state civil service as well as other citizens of the State for supporting the Commission during its assignment.
He then directed the State Attorney General and Commissioner of Justice and relevant officials to ensure that proper analysis of the report is made as soon as possible.
He equally called on all and sundry to join hands with Government in doing all that is right and just so that at the end of time posterity will leave to judge "our individual and collective conduct kindly".
YOU SHOULD NOT MISS THESE HEADLINES FROM NIGERIAN TRIBUNE
Experts Say Mixture Of Snail Slime, Evaporated Milk Cannot Cure Stroke
CLAIM: A Facebook user claims water gotten from snails (snail slime) and peak milk can cure partial or full stroke.
VERDICT: The claim that water gotten from snails (snail slime) and peak milk can cure partial or full stroke is false.
FULL STORY: On July 26, 2020, a Facebook user, Prince Nnamdi Enyinnaya Emelelu Eluwa, in a post claimed that water gotten from snails (Snail slime) and peak milk can cure partial or full stroke. The post which is over a year old has recently been reshared by other Facebook users.
Marburg Virus: What You Need To Know About Disease Recently Detected In West Africa
On Monday, August 9, 2021, the World Health Organisation (WHO) confirmed the first case of Marburg virus in West Africa in Guinea. This development has sent shivers down the spines of West Africans who are still grappling with the effects of the coronavirus pandemic. But before this dreaded disease is greeted by rumours and misinformation, here is what you have to know about the virus.APC states to establish Health Emergency Trust Fund…
FACT CHECK: US Did Not Give Nigeria 48 Hours Ultimatum To Detain Abba Kyari
CLAIM: Several social media posts claim the United States of America (USA) gave Nigeria's Federal Government 48 hours to detain suspended Deputy Police Commissioner, Abba Kyari, or face severe sanctions.
VERDICT: The claim is false and misleading. The US did not give Nigerian Federal Government 48 hours ultimatum to detain Abba Kyari.
FULL STORY: Tons of reactions have greeted the indictment of suspended Deputy Police Commissioner, Abba Kyari, by the United States District Court for the Central District of California.
The court indicted Kyari following his alleged involvement in the international scheme to defraud a Qatari school founder of over $1 million. The fraud scheme was masterminded by popular Instagram celebrity, Ramon Abbas, also known as Hushpuppi.
The Dangers In Mixing Toilet Cleaner With Bleach
Few weeks ago, Eniola Oyemolade, a journalist, decided to get creative while cleaning, by mixing a toilet cleaner and a bleach together. She did this with the thought that if one product works, mixing it with another would make it even better.
Unknowing to her, Mixing bleach with toilet cleaner creates a poisonous gas that can cause adverse health reactions, including death.
"After the mixture, I started feeling a burning sensation in my throat and I had to leave the room because the odour was really bad too," she said.