Billionarire Bill Gates wears $10 Casio watch •Tells how he banned his kids from owning phones until age 14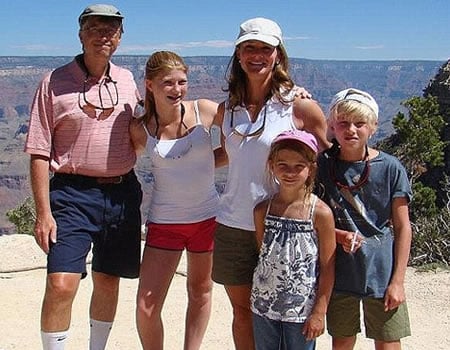 Microsoft founder Bill Gates, the world's richest man, says that he did not permit his children to own a mobile phone until they turned 14.
Gates made the revelation during an interview on Thursday with the British newspaper The Mirror.
Not only does Gates force his kids to wait until age 14 to get a smartphone, but he also limits the amount of time they could use them before going to bed.
Smartphones are also banned from the dinner table.
'We often set a time after which there is no screen time and in their case that helps them get to sleep at a reasonable hour,' the tech titan told The Mirror.
Scroll down for video 
Gates and his wife, Melinda, are parents to Jennifer, 20; Rory, 17; and Phoebe, 14.
Despite the irony of Gates playing a pivotal role in the technological revolution of the digital age, he still thinks limits need to be in place for children.
'You're always looking at how it can be used in a great way – homework and staying in touch with friends – and also where it has gotten to excess,' the Microsoft founder said of smartphones and social media.
'We don't have cellphones at the table when we are having a meal, we didn't give our kids cellphones until they were 14 and they complained other kids got them earlier.'
Gates, whose current net worth is estimated to be approximately $87billion, appears to have become more rigid with age.
In 2013, the 60-year-old tech mogul told NBC's Today show that 13 was the appropriate age for children to begin indulging in digital screen gadgets.
'We've chosen in our family that it's 13 where you get a phone,' the self-made billionaire explained at the time.
Despite their vast wealth, the Gates family, who lives in Lake Medina, just outside Seattle, Washington, has said they want to give their children as normal an upbringing as possible.
It was previously reported that their youngsters have to complete household chores and are given a modest amount of pocket money.
And in 2010 Gates said that he intends to give most of his $61billlion fortune away rather than hand it down.
Gates, who has become an active philanthropist since resigning as Microsoft chairman in 2014, is in many ways just a regular guy.
The Mirror reports that during its interview with Gates, he was wearing a Casio watch worth $10.
He also insists that he's 'big on pretty mainstream American hamburgers, McDonald's, Burger King.'