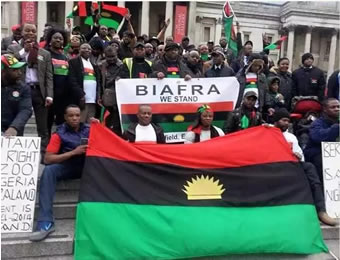 SOLE Spiritual Head of the Brotherhood of the Cross and Star, Olumba Olumba Obu has described as a waste of time the agitations for the creation of a Sovereign Republic of Biafra.
Obu stated this when he addressed a mammoth crowd of adherents and guests at the headquarters of the Church in Calabar, Cross River State.
He, however, warned all those behind the agitation for Biafra nation to desist forthwith as such would never come to fruition.
Obu insisted that the agitators were self-seeking, adding that the unity of Nigeria was above any individual interest.
He stressed that the unity of Nigeria is non-negotiable as God has not sanctioned secession, adding that if they succeed there would be much suppression of the smaller ethnic minorities.
He said everyone, particularly the agitators should rather emphasize on unity, love and forgiveness for one another in the country.
"How many of those agitating for secession actually witnesses the last Biafra war? Or are they looking for another war? Do they think Nigeria will fold its arms and watch them?
"They can go ahead with the referendum. Anybody who wants to go with them can do so. They should stop this Biafra thing because it will never work," he emphasized.
The spiritual leader also assured that President Muhammadu Buhari will not die but will return to the country with good health to complete his tenure, adding that "President Buhari is executing an assignment saddled him with by God".
He said those unhappy with his efforts at combating corruption and exposing those that have misappropriated state resources are those bent at seeing his end.
"God will not allow them to end the life of the president. The president is on special assignment by God. Until he finishes it he will not die. He will return to the country with good health," he declared.