CLAIM: A post on WhatsApp is offering N20000 COVID-19 funds.
VERDICT: FALSE. Registration may expose you to BVN /wire fraud.
FULL STORY: A forwarded-as-received message on WhatsApp claims one million Nigerian youths are to receive N20000 as COVID-19 Fund.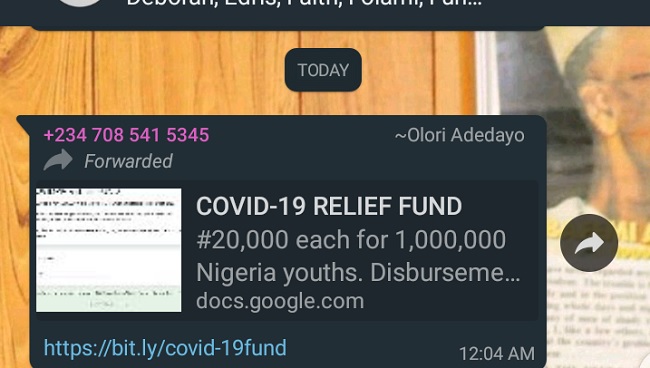 The post which contains a shortened URL http://bit.ly/covid-19fund further directs to a Google Form accessible via https://docs.google.com/forms/d/e/1FAIpQLSfvUQfcw2QHYjLCbJF0s8VjykAGhGmtZVVmFUi-Kr7dvelBfg/viewform.
Information on the Google Form reads: "COVID-19 RELIEF FUND. #20000 each for 1,000,000 Nigeria youths. Disbursement starts December 1st 2020.
"NOTE: This fund is non-governmental, but a combined donation of a private individual, foundation, and charitable organizations home and abroad.
"The application will be closed once we reach 1,000,000 and disbursement will be first come first serve."
VERIFICATION: Dubawa accessed this website and realised questions asked appear similar to those that will elicit details necessary for the enrolment for Bank Verification Number (BVN) or accounts in the bank.
Dubawa registered using a fake name and other false details in order to access the other pages on the form.
Some of the questions asked include full names, phone number, email address, nationality, city and state of residence, bank account number and bank name.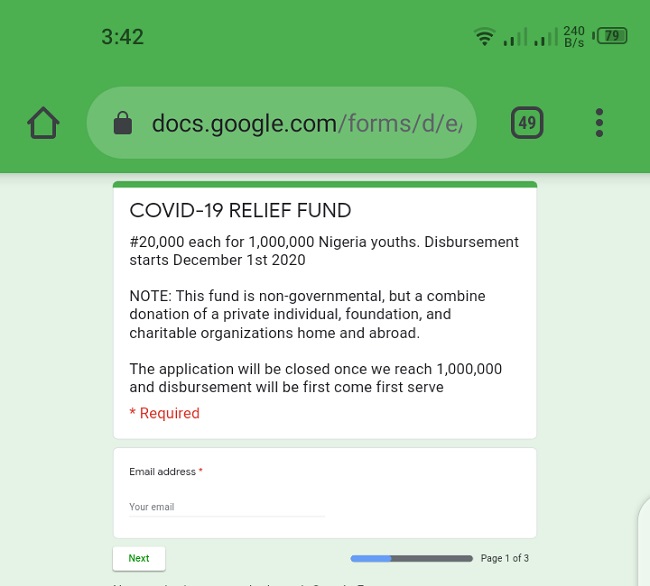 The second page of the Google Form asked that applicants "input your (his/her) name according to your (his/her) BVN details." This really raises a clear concern for Dubawa.
Checks by Dubawa showed that the criteria for applying for this fund is too loose and does not include information on whether one is affected by the pandemic or in need of the fund, rather selection for this fund is on a "first come first serve" basis.
It also does not give information on the reason for the fund as most donations which were reported in the mainstream media including CA-COVID have done.
A bank official who doesn't want his name in print because he is not authorised to speak on the matter said applicants should be wary of registration forms such as this.
He warned that details asked on the form could be used by fraudsters who would later call the applicant over the phone seeking further details such as OTP, BVN, ATM card pin and card number.
He said when fraudsters present themselves as bank officials citing those details already filled on the Google Form currently being checked in order to defraud unsuspecting members of the public.
CONCLUSION: Based on findings, there's no truthfulness to the claim that UNNAMED individuals, NGOs and/or groups both home and abroad are out to give Nigerians funds without a reason.
Submitting details such as these to a third party or in the public under the guise of receiving free funds, gifts and bonuses make members of the public prone to wire fraud, bank fraud and even BVN fraud.
The researcher produced this fact-check per the Dubawa 2020 Fellowship partnership with The Nigerian Tribune to facilitate the ethos of "truth" in journalism and enhance media literacy in the country.