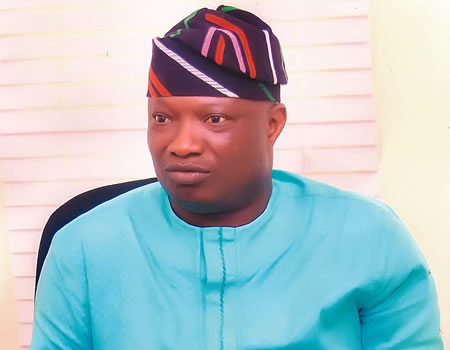 Femi Adefila, a former broadcaster with Osun State Broadcasting Corporation and NTA International, is the Chief Executive Officer of Rave Fm 91.7, a private radio station in Osogbo, the state capital. In this interview by TAYO GESINDE, the former Press Secretary to the former deputy governor of Osun State, Erelu Olusola Obada, speaks on the reasons media practitioners should own media houses. Excerpts:

You joined the league of private radio station owners two years ago, how has the journey been so far?
To God be the glory! It has been a very rewarding journey, but it is a pot pourri in the sense that every good thing starts very small. I believe there is no royal way to success; you have to pay a price for every glory. Every business in Nigeria starts very small and we didn't start without the usual challenges and hiccups that one has to confront as an entrepreneur in an environment of this nature. And we are operating a business that is very unique as it were. It will shock you that it is only in the media that we don't have financial support from the Bank of Industry (BOI) and banks are weary of supporting us, despite the fact that it is the media that raised the discuss for the need financial support for businesses. I must say we have passed through the teething stages and we have faced the challenges and weathered the storms. It is rewarding in the sense that what drives a man is his vision and passion. If your vision and passion are clear, no matter the challenges that come, you will be able to tackle it. We thank God that it has been two years of many awards and recognitions. I think we have been able to redefine and change the broadcast landscape of Osun State because we came with a definite station.
What is the secret of your success?
I did a study before I came on board. I analysed the existing stations; I did a diligent study on their content and realised that I need to do something different. I need to spice it up. Most of the radio stations in Osun State are either government-owned or politically-aligned and I discovered that wouldn't do me any good. I had to do the business of broadcasting despite my antecedent as the spokesperson for the Peoples Democratic Party (PDP) for 10 years. I had to shed that toga and step into the shoes of a media entrepreneur that takes objectivity very seriously.
We noticed the missing links in the existing radio stations and decided to do something different. Our content has been a major selling point. I decided to do hybrid broadcast content in the sense that I won't be strictly sport or news. I also decided to do more of English than Yoruba and to focus on the youth. We are a youth-centric station. Also, the fact that I have been in broadcasting all my life is also an advantage. It is better for media owners to be media men because, since it is your turf, you will know what to do to make your brand the best. We came with everything to give Rave Radio Station a unique brand as the best station in Osun to dominate the discuss and that is why I chose the slogan; Defining the moment. We want to define ever single moment with amazing music and quality talk. Also, as a spiritual person, I believe God has been with us. I believe what happens in the physical is determined in the spiritual.
How have you been coping with the competition from the other radio stations?
We have 10 radio stations in Osun. Competition brings out the best in practitioners. When I was in the Osun State Broadcasting Corporation (OSBC), we were the only radio and television station in the state so we had the monopoly and there was no challenge. But now that there are 10, we all need to up our game to outsmart each other because we are competing for the same audience. If you are doing rubbish on your station, people will tune their radio to another station. We are however committed to be the market leader. We are not resting on our oars or laurels.
Don't you think that the way radio stations are springing up these days will affect the quality and standard of broadcast?
I believe the more radio stations we have, the better for the broadcast space because if you commit your hard-earned money to set up a radio station which doesn't come up cheap or easy, you will want to make something out of it. You can only compete with others if you have quality. If you are not doing what the listeners want, they will drop you like hot potato. So, I believe the fact that we have many radio stations is bringing out the best in us. The more the merrier.
People are complaining that the quality of On Air Personalities (OAPs) we have on air these days can't even speak good English. What do you have to say about this?
Let me say this, we have a preponderance and culture of quacks within the broadcast space who call themselves independent producers. We don't allow them in our station because they will be used as a standard to measure us. If you don't measure up to my standard, I won't allow you. It is not a matter of pride or arrogance; we are setting a standard. Some people who are desirous of making their returns on time give their air times to independent producers who go on air to say all manners of things. So, the problem is in the system, but let me say this: broadcasting is an innate gift and you can't give what you don't have. That you read Mass Communication does not qualify you for a job on Rave FM. What qualifies you is your gift. I hunt for talent every day. It is not just about voice, content too is important. It is the person that has both that is a good OAP. It is incumbent on radio owners to separate the grain from the chaff at the point of recruitment. They need to set good standard for their staff.
The social media has taken over the space. Do you forsee a situation where it will send the traditional media packing?
Donald Trump, the American president, said recently that he prefers Twitter to traditional media, the social media is citizen journalism; it gives every individual an opportunity to be a journalist. That is why a radio station must be pragmatic and proactive. We play where the people are playing, on the social media; we are very active on Twitter, Facebbok, Instagram and so on. Television and radio will not die, but the social media will give us a run for our money because we are competing for the same space. So, it is good to deploy social media to complement the traditional media. Radio stations should understand the potency of the social media and make good use of it. When you are doing your programme, be twitting it. Also we are bringing vision to radio as a programme is being aired on radio we put it on our YouTube channel. So, don't run your station the way it is being done in 1975; do it the way it is done now. So, the social media is an added advantage, if well utilised.
For 10 years you worked for a PDP government and now you are a radio owner in the same state that has the All Progressive Congress (APC) in power. How have you been able to remain objective in your reports of the party's activities?
That is part of my history which I cannot erase and at every point APC throws it at me, but I was a professional within the political space and not a professional politician. I must say something: Governor Rauf Aregbesola has been very fair. He came to commission this place, despite the fact that some people didn't want him to come and anytime we meet, we relate very well. He has not done anything to hamper our smooth operations in any way, but his political jobbers would say that guy is PDP. Most government workers don't like opposition: they want you to sing the song according to their dictate; they want to control the narratives. Once you give the opposition to air their view, they will call you opposition leader. However, if I want this business to survive, I should not be politically aligned. We have been fair, just and objective as much as humanly possible. Though it is owned by me, Rave FM is a brand on its own. You must separate yourself from your concern for it to grow.
What more should your listeners expect from you?
They should expect us to continue to give them the best of broadcasting, the best of amazing music and quality talk. We will continue to do programmes that deepen discuss on socio-political and economic issues.