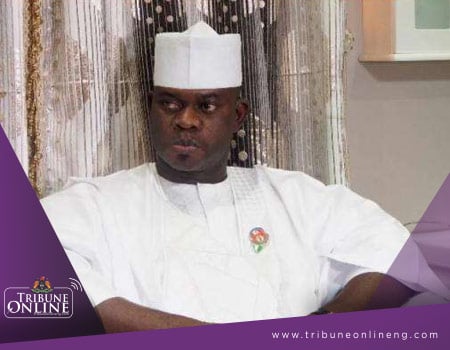 THE Kogi state governor, Alhaji Yahaya Bello, will on Saturday present staff of office to the new Obaro of Kabba, Oba Solomon Awoniyi.
A statement by the President-General of Kabba Development Union (KDU) and Chairman of the Central Planning Committee, Emmanuel Ajibero, on Sunday, said arrangements have been concluded for the epoch-making occasion.
Kabba is the political/traditional headquarters of the Yoruba speaking Okun land in Kogi state.
ALSO READ: Buhari's restriction of movement of 50 Nigerians, desperate plot to return Nigeria to past inglorious days ― CUPP
He said the new monarch, who succeeded the late Oba Michael Olobayo after his demise in May 2016, would be given the staff of office at the field of the St. Augustine's College, Kabba.
He said the event would be witnessed by dignitaries across the country, including governors, ministers, federal and state lawmakers among others.
Ajibero assured that all arrangements had been put in place to ensure a hitch-free ceremony.
Kabba town which has been in a gratified excitement since July 19, 2018 when Governor Bello announced Oba Owoniyi's appointment, is wearing a new look preparatory to the ceremony.
Owoniyi, a retired custom officer was unanimously selected by the kingmakers of the town and his selection was subsequently approved by the governor.