Behold, the storehouse of cultural heritage, tradition in Ibadan
Many only know about the existence of the 24-storey Cocoa House, the first skyscraper in the city of Ibadan, they do not know that it houses a rich cultural heritage on its topmost floor- the Odu'a Arts Museum. FAVOUR BOLUWADE and FAITH ADEOYE, report that the museum not only gives impeccable view of the massive brown roofs that made J. P Clark's Ibadan but it is also the storehouse for culture, tradition, history and vivid relics of the lifestyle of past decades.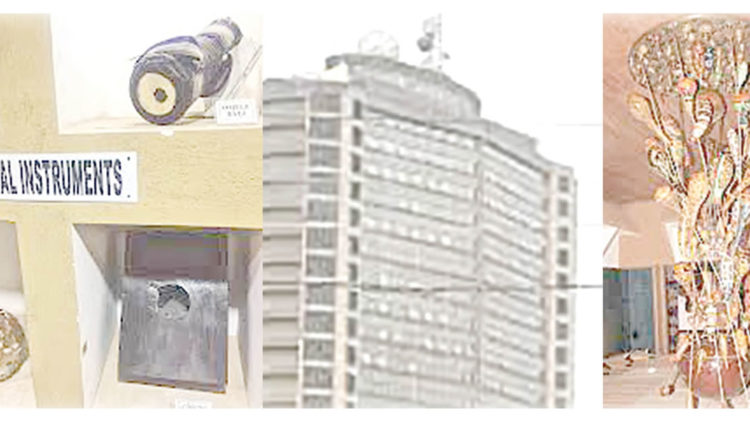 The Odu'a Museum and Hall of Fame, inaugurated by the Nobel Laureate, Professor Wole Soyinka, on April 3, 2013, was conceptualised by Odu'a Investment Company Limited to house and showcase the technological and ethnographic materials in arts and crafts as they relate to the occupation and ingenuity of the Yoruba of the past.
For people who were not alive during the past centuries, one and half hours in Odu'a Arts Museum is enough to get a vivid picture of what life looked like in those periods. The entrance, interestingly, is designed to portray the old palace chambers corridor known as akodi, where rooms were interconnected by small doors just like in the ancient palace of the Alaafin of Oyo and lit up by 'fitila', a traditional lamp.
Bamboo is used for the ceilings instead of the common asbestos or Plaster of Paris (POP), and is designed in a manner that reiterates the essence of the Yoruba proverb, 'owo omode ko to pepe, ti agba o wo keregbe' with the strategically placed opening in the ceilings like it is done in the old days for people to keep valuables from the marauders or prying hands of children.
The museum walls are artistically decorated with local fabrics like adire, ofi, ankara, tie and dye materials, block prints, xylographic designs and mural prints to bring back the beauty and richness of Yoruba fabrics.
Speaking on the basis for using the fabrics, the curator, Mr Babajide Famuyiwa, said, "The patterns on these objects to replace wallpapers are to educate the young visitors who come in. Adults don't really visit museums."
There is a popular saying that a race that forgets its history, culture and tradition will surely die. The Yoruba Gallery of the Odu'a Hall of Fame and Museum is a reminder of the culture of the Yoruba people and an indication of the revival of the fading Yoruba values, rich history and artifacts. The gallery is well decorated in a traditional way to show the way houses were decorated in the past with mats as roof.
One of the artifacts, the Aladoko masquerade, is strategically located on the right hand side of the gallery to catch the attention of visitors.
Famuyiwa explained that, "it is a type of Egungun tradition common in Owo and Ekiti area of Yorubaland. The masquerade is dressed in colorful outfit with a huge head to attract visitors. The masquerade has lots of mirrors on it, which add to its aesthetics. It is believed that any woman who looks into the mirror will be blessed with the fruit of the womb.
A short descriptive note providing details of the artifact is tagged to it like every other artifact in the museum. Just behind the Aladoko masquerade are different types of musical instruments such as bata, Ilu ogbele common in Ekiti, omele related to Sango, and others such as  Saworoide, omele isaju, aroo (Tambourine),  and agogo.
"These musical instruments are accompanied with singing and dancing at social events like weddings, funerals, chieftaincy ceremony and welcoming of a new baby into the family," the curator explained.
Another important artifact is the Yoruba peace treaty. The curator explained into the three Yoruba wars and gave an insight into conflicts within Yorubaland and some external forces. The peace treaty served as a diplomatic way of settling conflicts in those days. The peace treaty was signed in 1886 and was reached at the Kiriji-Imesi battlefield.
Ogun is believed to be the god of war among the Yorubas. Thus, in the museum, visitors would find Ida Ogun (sword of Ogun); Etu (gunpowder), Ota (bullet), kodo ibon, Ifunpa and other things used by the ancient Yoruba society in fighting wars and defending their territories. The war implements are carefully arranged and labeled for easy identification by visitors.
Ethnographic collections like calabashes, gourds, different kinds of pots – Amu, Ikoko and  Adumofila. The calabash and gourds are used for drinking, serving food or used to carry goods to the market.
"They are also popularly used as a container for oogun (medicine). The amu and Ikoko are used for storage purposes. Both are made from clay and can be used to fetch water from streams to store in the house," Famuyiwa said.
At the end of the room is a corridor holding two major history rooms; exciting fashion lifestyle of the ancient Yoruba tradition. Beautiful images are on the wall showing the way clothes were made and designed in the past. Different types of Aso-Oke such as Sanyan, Alaari, Etu and Aso-oke olowu dudu, were beautifully arranged in the room to show visitors the sophisticated fashion lifestyle of the Yorubas.
"Aso Oke is used to make different styles such as Kembe, Agbada, Dansiki, Sooro and they are worn during special occasions such as weddings, naming ceremonies or chieftaincy installations. It is also interesting to note that both male and females in Yoruba land weave but they use different types of loom," the curator also explained.
The other room labelled 'Memories from the Past' contains items from the early modern Yorubas and Nigeria at large, such as the ancient huge black and white television, gramophone, telephones, typewriters, old sewing machines, pressing iron and so on. These items were brought to Nigeria during the colonial era and had influenced the Yoruba tradition.
The museum in its Hall of Fame have names and pictures of people that have made a mark in different endeavours and are celebrated for their movements that have shaped the Yoruba land by fighting for liberation and leaving indelible marks in their generation.
"We have most prominent Yoruba figures here; people who have made impact in their various fields, just to have something to motivate the youths. There's no way you see these people and not want to aspire to do better. It's an Omoluabi honour. We as Yorubas believe in hardwork, conscientiousness and devotion to one's craft. And we want the youths to see this, to strive, to face their work squarely so they become valuable to the society," Famuyiwa said.
The Hall of fame, in the category of those who fought for freedom, have Samuel Akintola, Adekunle Fajuyi, MKO Abiola, Olufunmilayo Kuti and the former Western Region Premier, Obafemi Awolowo who established the first television station in Africa, launched in 1958. They were people who stood for the people and they have their names written in gold on the tablet of time.
Others are Taiwo Akinkunmi, who designed the national flag; Mrs Anike Agbaje Williams, first presenter in WNTV (Western Nigerian Television); former President Olusegun Obasanjo, Oba Adesoji Aderemi, Herbert Ogunde, Lamidi Fakeye, Chief Folake  Solanke.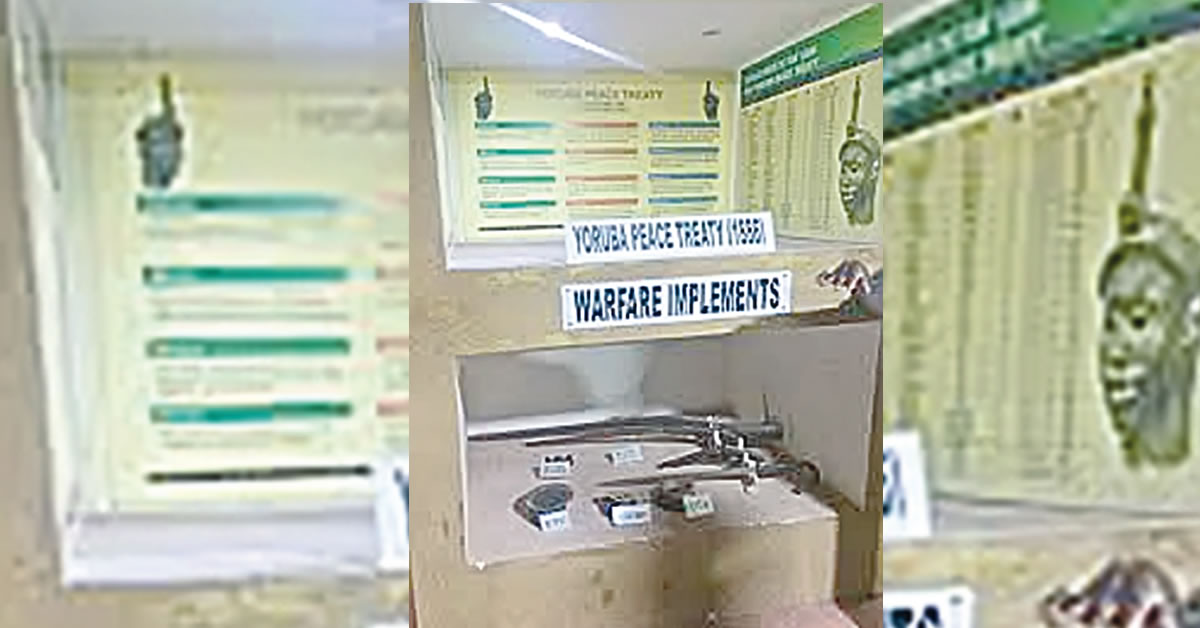 Also, Rashidi Yekini, Nojim Mayegun, Teslim Thunder Balogun, Ayodele Awojobi, Christopher Williams and Wole Soyinka were among the people who grace the Hall of Fame.
Mr Victor Ayetoro, head of Corporate Affairs, Oodua Investment, gave the eligibility requirements for being in the Hall of Fame.
"You must be Yoruba, must be first in your field or career and must be agreed to be an Omoluabi."
The first storey building in Nigeria situated in Badagry, the Cocoa House  and the University College Hospital in Ibadan are in the Hall  of Fame to identify with the greatness of significant infrastructure that started in Nigeria.
"They used to bring people from other countries to get treated at the University College Hospital here in Ibadan. This is why we have this picture here, to remind us of what it was like with good governance. Now, we are the ones going out to get treated," Famuyiwa explained.
Speaking on the existence of a museum for Yoruba artifacts, Ijalusi Temitope said, "a museum should be a place you go to know about ancient beings and what they were like back then and their significance to the present.
"So, of course, I would love to visit one if I get the opportunity. It would help me to know more about the Yoruba culture, origin and ancestors that contributed to its existence and unity."
An artist, Mofoluso Eludire, who makes artifact and paintings on daily basis, said she believes museums are important and the business should be a part of tourism.
"I would say everyone should be interested in arts and culture but that's a personal choice. I would say that the interest in it has grown over the past years. More work can be done in the arts sector. They bring about investment opportunities. In places that have tourist attraction areas, attraction facilities can be provided. And it wouild not be a bad idea to have a  historical museum in those places," Eludire said.
Kayode Oyedele also said museums have been underrated, adding that "they go a long way to relive old heritage especially for a culture like Yoruba that is going down in history in this generation".
"This museum was set up to showcase objects of historical and artistic value. Mr Victor Ayetoro, head Corporate Affairs Oodua Investment said, "There is the Hall of Fame and another exploratory room which serves as abstraction for people and also a place to gain information.
"Ours is a private world; it's a nongovernmental Investment so the government doesn't have anything to do with it.  What we are doing is to reflect the century, a classical type of history.
"Technology has come to scrap our heritage. At Oduduwa investment, we are putting up the museum as a center to showcase some object of historical and artistic value that are evidence of a material culture which has been bequeathed to us by our forefathers.
"When you get to the museum, you see some guns and everything which we have to move round all the South West to get by ourselves. We buy from local people so that we can install them and the purpose is to serve as an eye opener to school children, visitors and other people that are interested in Yoruba cultural value."
The museum awakens the best of Yoruba history, culture and heritage at a period when the culture of the Yoruba tribe is gradually becoming extinct due to civilization. The Odu'a, museum is like a ray of hope that exists to keep the light of historical preservation from fading.