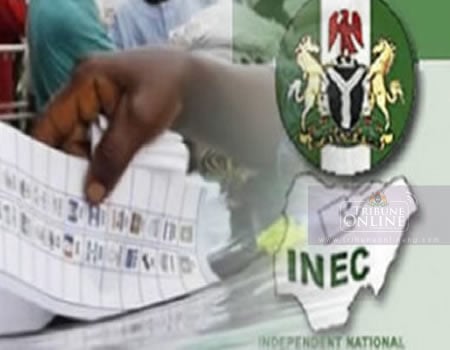 THE Independent National Election Commission (INEC) Resident Electoral Commissioner in Bauchi State, Ibrahim Abdullahi has expressed worry over the apathy of registered voters to collect their Permanent Voters Cards (PVCs) in the State.
Ibrahim Abdullahi raised the concern during a press briefing on PVCs and 2018 continuous voters registration exercise (CVR) held at the INEC office in Bauchi on Friday.
He lamented that out of the 93,486 PVCs for those who registered from April 2017 to January 2018, for which were printed and ready for collection, only 6,524 have been collected so far.
"INEC has commenced the distribution of all the PVCs since Monday 21st of May, 2018 in all 20 LGA offices of the commission and other designated registration centres across the state", he stated.
"I am urging all those who have registered themselves as voters between the period of April 2017 and January 2018 to report at INEC at INC Local Government Area Offices and other designated registration centres across the state with their temporary Voters Cards/Evidence to collect their PVCs every working day", he appealed.
He thereby urged those who registered in 2014 "but they could not get their PVCs or did not come for collection of their PVCs at all that the compiled registration list has been displayed in all the 20 INEC Local Government Area Offices in the state in order to verify their registration status and ascertain their PVCs for collection."
"Furthermore, I am glad to remind all eligible citizens of Bauchi state who have attained the voting of 18 years and above and have not register themselves as voters to visit nearest registration centers in their respective LGA to register so as to have the opportunity of participating in the forthcoming 2019 General election and subsequent elections in future", he stated.
Ibrahim Abdullahi called on the citizens of the state particularly the political parties, politicians, women groups and youths to conduct themselves within the ambit of law and participate actively in the electoral processes for sustainability of democracy in Nigeria.