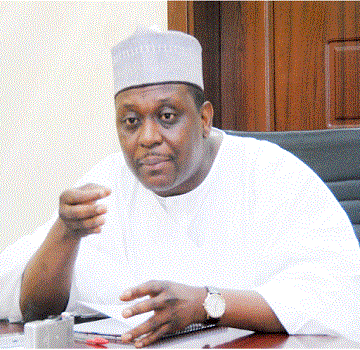 HAVING lost his gubernatorial bid under the ruling All Progressive Congress (APC), a former Minister of State for Health, Professor Mohammed Ali Pate has picked the gubernatorial ticket of the Peoples Redemption Party (PRP) with a call on the electorate in Bauchi State to as a matter of necessity support his aspiration in order to witness the desired development the state is lacking at present.
While making his manifesto public, the gubernatorial candidates of the PRP declared that "
Bauchi State is at a cross-road today and will need to decide on March 2, 2019, at the ballot on its future direction. It faces a choice between two contrasting future directions: between truth versus falsehood, justice versus oppression, progress versus backwardness, shared prosperity versus mass poverty, prudence versus corruption and light versus darkness."
Ali Pate added that "Our Party, PRP, and our candidacy, represents a clear choice for truth, justice, progress and prosperity. Its golden key will unlock the potentials of Bauchi State so that all its citizens will enjoy decency, progress and prosperity."
"My vision is for Bauchi State to become the best place to live, visit and work in the entire Federal Republic of Nigeria. We intend to achieve this vision by focusing on the agendas outlined in our Promise. We Promise to fight endemic extreme poverty in Bauchi State by increasing household incomes over time, Bi-Iznillah," he further said.  
He promised that "We would focus on creating high-quality jobs for the teeming unemployed youth. We would empower small-holder and large-scale farmers to boost their productivity and access to markets. We intend to build agro-industrial infrastructure, including dams and irrigation schemes. We would revive discussions of the Kafin Zaki dam. We would create innovative micro- and meso-finance arrangements for artisans, Small and Medium Scale Enterprises to have access to capital to grow their businesses."
"We would also promote and attract small and large-scale manufacturing, creating at Industrial parks in each Zone, hubs in each L.G.A., while transforming our State's social welfare, education and health systems to be the best in the country. We would provide stipends and merit scholarships for children of poor families, skills for youth and women, and guaranteed access to affordable, quality basic health services for every citizen," the PRP candidate added. 
He further assured that "We plan to build world-class public infrastructure (roads, water utility, power, housing and environment) using innovative financing arrangements such as public-private partnerships, with international investors to make our State a gateway."
"We plan to restore the pride and dignity State's civil servants, pensioners, teachers, health workers, security establishment and traditional and religious leaders through giving of their gratuities, entitlements, training and fair compensation. We would take a value-chain approach to develop our State's endowments and natural resources, such as mining, water, tourism sports and culture," he further assured.   
Ali Pate went on to assure that, "We would unite the diverse peoples of our State – all religious groups, all tribes and from all areas – to achieve lasting peace based on equity and justice for all. Inshallah, our administration will promote the highest levels of transparency and accountability, with zero tolerance for corruption of any sort. We would ensure that all the 20 Local Governments functional and accountable to the people." 
On what his PRP led administration intends to if elected, he stated that "Our administration intends to divide its political appointments into three – one third each for youth, women and older demographic groups. This is to ensure that youth and women are no longer observers in the sidelines of governance, but that they are at the core of where decisions and programs are executed." 
He, however, explained that "The choice for Bauchi State is clear. PRP is the only choice. Our opponents have no plans. We have a good plan. We have what it takes to deliver it, Inshallah. If elected on March 2, 2019, and we assume office as expected on May 29th, Inshallah, we have a clear plan for what Bauchi State citizens to can expect within the first 6 months and throughout our tenure."
He assured that with tangible deliverables, including but not limited to
 "Full list of nominees for all Cabinet positions within one week and all Board and adviser appointments completed within one month from May 29, 2018. 
 Establishment of a dedicated Ministry for Jobs Creation responsible for Matching unemployed young men and women to quality jobs. 
 Establish Innovative State Micro-Finance Institution to Finance SMEs and Cooperative Societies while kicking off regulatory reforms to enable the small entrepreneurs to thrive. 
An increase of the Basic Minimum Wage within the State's fiscal envelope."
Other things according to him include, "Immediate commencement of defraying backlog of pensioner and civil service entitlements. Local Government Elections completed with elected local Councils in place as soon as feasible. Routine Publishing all Government Budget/Expenditures and FAAC Funds received by the State Government starting from July 1, 2019. Routine Quarterly Progress Report Dashboard Published and Displayed starting within the first 6 months and continued thereafter." 
The candidate also promised to ensure publication of relevant Minutes of all Cabinet Meetings starting from July 1, 2019; Kick-off Massive Health and Education Reforms, to ensure guaranteed access to basic health services for all citizens and access to quality education for all. This will include infrastructure and welfare of health workers and teachers; Public Workfare through Massive Infrastructural Projects – roads, housing, water, environment and Restitution for Unfairly treated Hakimai, Dagatai, Civil Servants, Teachers, Health Workers and others who suffered injustice in the present administration. 
"We call upon all the good citizens of Bauchi State to join hands with us in this movement by supporting and voting for us and all the credible candidates nominated by PRP. We also call upon all our supporters, especially the youth and women, to conduct themselves with patience, decorum and civility always. Our campaign shall not be violent, even if we know that electoral rigging and violence are the primary modus operandi being plotted by our opponents. We are ready to counter their intentions with goodness and we will defeat them, Bi-iznillah," he assured.   
"Ours shall be a positive and uplifting political movement to give our people hope in their future. In the face of enormous darkness and stench currently prevalent at highest levels in the State, we will strive to bring light and fresh air. Today, I ask for your support and vote in the 2019 elections. I am joined in this solicitation by a dynamic deputy Governor nominee, Barrister Ahmed Farouk Gwadabe," he declared. 
It would be recalled that Ali Pate alongside two others had contested but lost the APC gubernatorial ticket during the party's primary election to the incumbent Governor of Bauchi State, Mohammed Abubakar, having been dissatisfied by the outcome of the primary election, Ali Pate alongside his supporters left the APC and joined the PRP where he was given the party's gubernatorial ticket.