Bauchi govt donates 6.7 hectares of land to UBEC for construction of model school
as gov flags off construction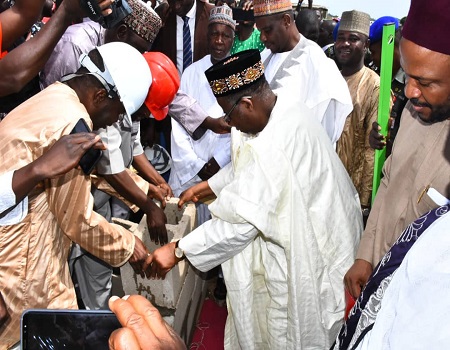 Bauchi State Government has provided 6.7 hectares of land to the Universal Basic Education Commission (UBEC) for the construction of the North-East Zonal Center of UBEC Model School just as the State Governor, Sen Bala Abdulkadir Mohammed has laid the foundation of the construction.
The Governor while speaking at the flagging off of the construction of the School in Bauchi on Thursday, said that the gesture of the government is to fast track the execution of the project considering its importance to the educational development of the state.
He described the project as a perfect example of a meaningful partnership between the Federal Government and the State in the provision of qualitative education to students.
ALSO READ: Bauchi gov advocates modern technique for livestock production
The Governor further said that the deployment of Information Communication Technology (ICT) based facilities in school management and administration are another landmark as it will check absentees, monitoring and evaluation mechanisms in addition to ensuring the better acquisition of knowledge especially in critical subjects.
Bala Mohammed who expressed gratitude to the Federal Ministry of Education and Universal Basic Education Commission (UBEC) for siting the project in the state, pledged to ensure the maintenance of the school when his administration lasted.
On his part, the Minister of State for Education, Mr Chukwuemeka Nnajiuba reaffirmed the determination of President Muhammadu Buhari led administration towards improving the quality of basic education in the country.
In his speech, the Executive Secretary, Universal Basic Education Commission (UBEC), Dr Hamid Bobboyi explained that the introduction of the Model School Initiative is a turning point in the delivery of qualitative education within the basic education sub-sector by providing conducive environment for effective teaching and learning and serve as centres which will promote teaching and learning through ICT devices.
The Executive Secretary, noted that the Model School in the state when completed will have facilities for Pre-Primary, Learners with Special Needs, Primary and Junior Secondary School, Classrooms, special needs Classrooms, Audio Visual rooms, Science Laboratories, Vocational workshops, libraries, Multi-purpose Training centre, staff room, offices, clinics, playground, toilets, assembly ground and cafeteria.
Hamid Bobboyi, however, said that it will be equipped with the state-of-the-art ICT devices to include interactive boards, computers, ipads, tablets and internet-enabled television sets among others.
According to him, in order to ensure the Model School projects were delivered to specifications, the Commission has engaged the services of competent Consultants in the various field of the construction industry to supervise the projects in addition to monitoring visits to the sites by the staff of the Commission, SUBEBs and other relevant stakeholders.
The UBEC Executive Secretary said that already two Models were proposed under the Model School Initiative for the basic education sector and acknowledged the support of Governor Bala Mohammed to the project.