The ancient city of Badagry is an important part of the history of Nigeria as a nation as it was the beginning of most developments. On a one day visit to the coastal community, YEJIDE GBENGA-OGUNDARE, discovers that Badagry is not only a historical tourist attraction but a beehive of smuggling activities that lacks basic infrastructures. Her report. 
The sleepy town of Badagry, known as agbadarigi by many in ancient time is a historic community that is not only of great significance to the history of Nigeria but also the Yoruba people. Though it is a peaceful town with many ethnic and religious groups cohabiting, the root of the community according to history has been traced to the Yoruba people of South West Nigeria.
Around 1740, the town became a thriving community for its sole industry of slave trade and it became the first Nigerian community to establish relationships with different European nationalities.
The town made more exploits because on that route, it was the last town that links Nigeria to Benin republic and the ship port to other foreign countries for slave trade in those days. It had over 200 rural communities; Apa, Ajido, Kweme, Ibereko, Iworo, llogbo, Ikoga, Igborosun, llado, Imeke, Topo-ldale, Aradagun, Toga, Ajara, Imeke, Gbaji-Yekke, Ganyingbo, Koga, Pota, Tohun, Erikiti, Mosafejo, Iragbo, Wesere among many others.
The town recorded many firsts in development as in the history of Nigeria being the first to have contact with Europeans and is still referred to as the as cradle of Western Civilization in the country.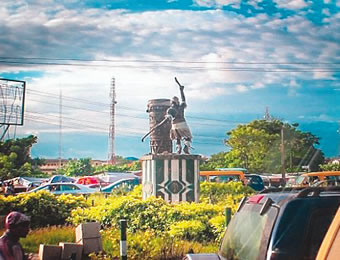 The long journey is one that could be described as the biblical Israelites journey that took 40 years instead of 40 days. And after over seven hours on the road for a journey estimated to take four and a half hours from Ibadan, the Oyo state capital; compliments of traffic jams, bus change and a bus headed for Badagry from Iyana Oba, that moved at snail speed, a roundabout appeared after what seemed a long stretch of sandy road and trees and the Agbara fly over.
The busy roundabout with a big drum is the first sign that indicates a 'Welcome to Badagry', a coastal historic town situated between the city of Lagos and the border with Benin at Seme. It is a town known for many things; bustling seaside, a rich history of firsts: the Nigeria first Christian mission, site where Christianity was first preached; the first primary school and the first storey building in Nigeria, slave trade monuments and great vehicular movement by smugglers.
For the Badagry people, the roundabout with its drum is a symbolic welcome as the drum represents the Sator drum, a traditional part of their heritage that only comes out for special occasions.
And left of this roundabout leads to popular points like the point of no return, the French village, Badagry Heritage Museum and many other tourist points that could be called the sights and sounds of Badagry. But moving straight ahead is a journey into the traditional Badagry town and is a straight road to the border; this road is one that does not enjoy much commercial activities as it is for people going to Seme border and is usually a dangerous terrain due to activities of smugglers trying to outsmart customs officers and do not care if human lives are lost in the process.
This road is another scenario from the one that leads to the other side of town. It not only shows the life of the people as fishermen and farmers but is also the most travelled with the mode of transportation being motorcycles, tricycles and rickety buses that should already be off the road.
The road also leads to the Coconut Beach twenty miles of the border that got its name from the coconut trees that creates a border for it and adds to its great scenery, a good location for tourists.
Badagry subsists largely on fishing and agriculture and is said to generate the highest Nigeria Customs duties income from the Seme border, which according to history was arbitrarily drawn by France and Britain in 1959 to prevent the territory from falling under the control of another European country. Its proximity to the sleepy Badagry town as well as the rich historical monuments makes the community enjoy huge vehicular and human traffic daily.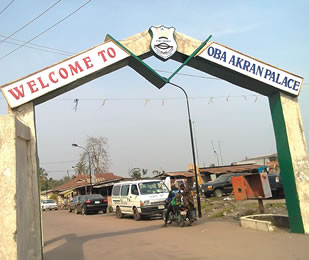 The all season busy Lagos-Badagry-Porto Novo road is one long straight stretch that divides the Badagry community into two with both sides spotting trees and sandy roads. A walk on these roads however is an adventure as the hot sand continues to hook one's legs and spill into one's shoes making even short distances look longer and putting a strain on the muscles of the legs.
Though a local government area in Lagos state, Badagry is as important as its neighbor, Seme – a known intermediary for re-exporting of goods which makes Badagry the link community in getting these goods into Nigeria.  And due to the nature of the Nigerian- Seme border, trade flourishes daily on the Badagry- Cotonou road.
A resident of Badagry, Marianne Benjamin, who spoke with Nigerian Tribune, stated that she travels from Badagry to Seme daily, adding that business for her is booming as she has customers from Lagos who come to pack whatever she brings in. According to her, she brings in consumer goods from Seme where it is easily available and also much cheaper but was emphatic that there is nothing wrong in what she is doing when asked if she knew her business could be termed smuggling.
"There are so many things that are brought in from Seme – polished rice, groundnut oil, drinks, frozen turkey and chicken, packaged foods, cigarettes, canned food, fairly used clothes called okrika, tyres and even second hand cars. I only bring in food; frozen foods, groundnut oil and rice though now in smaller quantities because it is becoming more difficult but I take exception to being called a smuggler.
"This is my livelihood and it is clean work. I buy goods and sell to people for a profit but the hassles we now face bringing in goods makes life difficult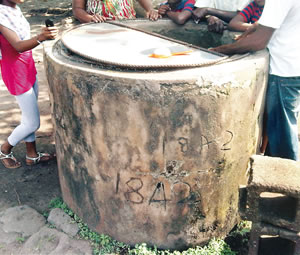 and has forced people to devise various survival means. Some now do things the hard way, taking bushy paths than the usual route back just to avoid greedy custom officers.
"Survival in this business depends majorly on creativity and being street wise. The bargaining power of each individual at custom points, how good he is at packing his goods or hiding them determines how successful the person will be. Then, every trade has its risks," she concluded.
In spite of its long years of existence and the presence of landmark cultural monuments as well as beaches and relaxation points, the tourist town of Badagry still manages to generally retain the look of an evolving community – shanty like structures on huge sandy track of land, brick buildings with corrugated sheets with few attempts at civilisation and a general laid back look.
Nigerian Tribune also found out that standard of living in Badagry is relatively cheap as many things are readily available at cheaper prices. A civil servant who identified himself as Augustine confirmed this.
"Things are cheaper here because of our nearness to the border; foodstuff, footwear, frozen foods, tinned and packaged products as well as second hand clothes are all cheaper here than from Alaba to Lagos because this is the first port of call when they are importing and the chances of getting in before the smugglers pay levy or fines to customs or other agencies is very high," he said.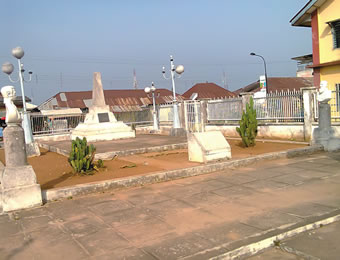 However, to residents of Badagry, gun duels between smugglers and customs officials leading to loss of lives is common place while many are used to having their things searched for prohibited products when they have to leave town. According to Augustine, "there had been issues of fighting between smuggling groups and customs officials over the years. It has become serious to the extent of accidents, burnt vehicles and killing of customs officials as well as smugglers.
"One of such happened last month; customs officials shot dead a smuggler while four others were wounded. We have always had such issues and it is frequent because a lot of smugglers live and operate from Badagry," he stated.
However, there is fallout of the smuggling activities on innocent residents and visitors when they want to leave the town as they are placed under the radar and viewed with suspicion. "Until recently, there isn't much of harassment around here and people move from any point but since two years ago, with the ban on importation of more food items and other products, and because they know that Badagry is a beehive of smuggling activities, everyone undergoes checks at some point.
"If you have a house in Lagos or you have reason to visit relatives and you are taking foodstuffs home, your journey won't be an easy one at all because the individual will go through a lot of stress explaining how he got what he's carrying and where he is going with it to customs officers who now view people leaving the town with load with suspicions that they may be smuggling prohibited substances," he said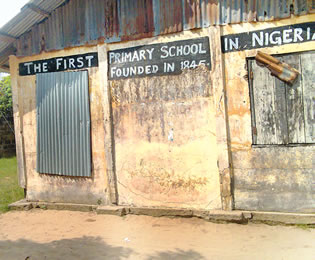 Also speaking with Nigerian Tribune is Rev. Moses Godonu, the Vicar of the first church in Nigeria, the Freeman Memorial Methodist Cathedral founded on September 24, 1842. He described Badagry as a peaceful town earlier known for mat making and production of palm wine and local gin.
He added that, "though it started as a slave market, to God be the glory, Christianity started here and is still thriving. Though about five years back, we had an issue between Christians and masquerade worshippers, who invaded the church and attacked a pastor and his members. But the issue got to the attention of the palace and it was resolved with a warning that no one should infringe on the rights of another or impose his religion on them.
"Of recent, we give glory to God that things have changed. Unlike before that we have just a few churches and denominations, today, we have more than 100 churches in Badagry," Rev. Godonu said.
He further explained that Badagry will not continue to be a sleepy town as the town is gradually experiencing development and taking the outlook of a city. "Badagry was affected by politics in terms of infrastructure as previous governments neglected the community on some perceived political grievances until Governor Fashola, who had a more liberal heart did a little; he rehabilitated the road in the town but that was all he could do.
"But of recent, Governor Akinwumi Ambode visited Badagry and his visit brought good tidings because people that were given money for projects and didn't execute them did so in a hurry when the governor was coming. And when the governor came, he saw the massive abandoned projects across the town and he came the second time for an interactive session with stakeholders and he promised that all abandoned projects will be completed, adding that he will focus on Badagry the way Ikorodu and Epe are getting government attention.
"We also thank God that the Federal Government has approved a deep sea port to be situated here and the Yinka Folawiyo Petroleum Company also discovered crude oil here which Dangote has promised to build a power station at Lekki to dredge the oil. With all these, we are looking at a better Badagry especially with the mass exodus of migrant moving to live and establish businesses here unlike before that we have just a few houses," Rev. Godonu concluded.
And away from the issue of smuggling, Badagry has a side that brings many people as a tourist attraction, these points which could be described as the sight and sounds of Badagry include the monuments of the slave trade era; the point of no return, the Badagry Heritage Museum which comprises of eight galleries and has artifacts like chain from the slave trade period as well as pictures of  slave ships, exchange and trade, the Agiya tree monument where Christianity was first preached by Thomas Birch Freeman, the Seriki Abass bar-racoon,  a holding cell where slaves are kept for months till buyers arrive and which was built by a slave that came back to engage in slave trade.
Other attractions include the first storey building in Nigeria, the first church in Nigeria, the first school, the French village and the Whispering Palms beach among many others.
If getting into Badagry seems difficult and slow, then getting out is not an experience for someone who does not enjoy adventures especially when the journey is being made in a commercial bus that more often than not is rickety and further overburdened with load.
There are customs checkpoints at regular intervals and at most points, officers were not satisfied with just peeping into buses, every passenger had to alight and identify his luggage while those that have explanations are separated. Inspection of some luggage proved that the mission of the custom officers was not just a waste of time.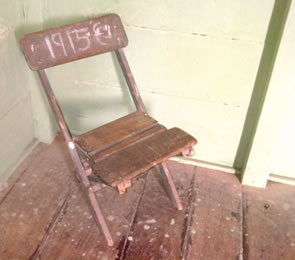 As what at face value looked like a bag filled with the usual assortment of a tourist when opened contained a strong transparent nylon filled with groundnut oil said to be half a drum in quantity while the whole roof of another car stopped was used to load tinned and packaged products in a technique Nigerian Tribune learnt is called Dipa by smugglers.
Indeed, Badagry town is a medley of history, monuments, tourism, culture and commerce.