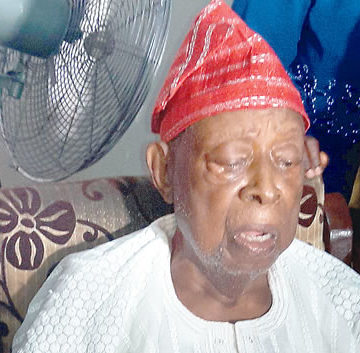 AS Nigerians mourn the death of Late Apostle Moses Olaiya Adejumo (Baba Sala) Osun State governor, Mr Rauf Aregbesola, on Tuesday said the nation, most especially the entertainment industry has lost another icon, who explored his talents to impact positively on the society.
In a condolence message forwarded to Adejumo Abogunloko family of Ijoka Ilesa on the passage of the thespian, the governor observed that the demise of Pa Moses Olaiya Adejumo, whose popular stage name is Lamidi Baba Sala signalled the ends of an era of flowing and successful theatre career."
According to the condolence message endorsed by Aregbesola's media adviser, Mr Sola Fasure, which was obtained by Tribune Online in Osogbo, "Baba Sala who passed on at the age of 82 held the Nigerian theatre stage spellbound for more than five decades."
ALSO READ: Gov Obaseki congratulates Oyetola, says victory, 'hard-fought'
The message reads, "every Nigerian, who grew up in the South-West, would attest to the prowess and productivity of the late Pa Olaiya either on the television series and later the celluloid at the cinema. Moses Olaiya was unarguably the greatest comedian around for more than 50 years, which made him the darling and delight of every home."
"I received the news of the death of Pa Moses Olaiya aka Baba Sala, with a deep and irreplaceable sense of loss. He has been in our prayers since he battled with ailments arising from old age for some time now. His death is significant in here in that he has gone to rest with his Lord permanently.
Nevertheless, his exit signified an end to his own brand of comedy, which no one can rival or beat. His death has therefore left a yawning gap in the theatre arena in the country."
"Pa Moses Olaiya Adejumo was undoubtedly a theatre veteran, a comedian par excellence and a humour merchant of no mean feat. He was a multi-talented artist whose works straddle music, theatre and comedy. He had a travelling theatre troupe, performing in concerts, got his works recorded on vinyl and LP albums, cassettes, cartridge, celluloid, CD, video CD and DVD. He was also an entrepreneur, with significant investments in entertainment, hotels and recreation."
"He would forever be remembered for his creativity, dramatic simplicity, far-reaching and rib-cracking humour. His humour is clean, elevating, uplifting, philosophical and borne out of wisdom. You can hardly watch him without laughing and getting highly elated. He was a harbinger of good fortune: he made people forget their sorrows through his talent. His death certainly has left a gap too huge to be covered in the immediate subsequent years without him", Aregbesola remarked.