Ayansina installed 19th ICAN Ibadan district chairman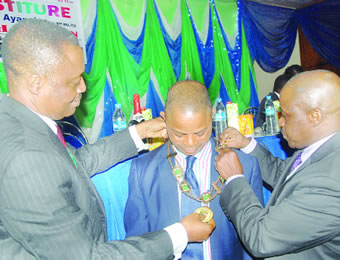 Deacon Samson Ayansina has been installed as 19th Chairman of Ibadan and District Society of Institute of Chartered Accountants of Nigeria (ICAN).
At the investiture ceremony held at Premier Hotel, Mokola, Ibadan, on Thursday, Ayansina received the mantle of leadership from Mr Ganiyu Adebayo for a term of two years.
Ayansina, in his acceptance speech, expressed commitment to the ensuring that the district, especially, constructed its own permanent building, estimated at about N60 million.
He therefore enlisted the support, especially financial support, of members of the society, in accomplishing the programmes of his administration.
52nd ICAN President, Deacon Titus Soetan, who did the ceremonial investiture, charged Ayansina and the new executive committee to defend the accountancy profession and serve in the overall interest of the district.
Soetan also urged ICAN Ibadan district to come up with unique programmes and improve on the society's "Catch Them Young" programme aimed at encouraging students to embrace accountancy.
The newly installed executive committee are Mr Ademola Ogunsesan (Vice Chairman), Mrs O.O. Oladipo (General Secretary); Mr Victor Oguntade (Treasurer); Mr A. O. Fagoroye (Financial Secretary); Mr T. M. Azeez (Technical Secretary).
Others are Mrs O. O. Omisore (Social and Publicity Secretary); Mr Olagoke Akanwo (Assistant General Secretary); Mr S. A. Akinbowale (Ex Officio); and, Mrs B. T. Babajide (Ex Officio).
Guest Speaker at the occasion, Mr Adetunji Adepeju, harped on the role of chartered accountants in curbing corruption.
He charged accountants to shun a culture of grandiosity, greed and rather uphold integrity, humility, transparency, accountability, contentment and moral values in the practice of the profession.
Adepeju bemoaned accountants' susceptibility to receiving bribes, questionable gifts, questionable hospitality from host organisations.
Calling for a re-examination of our value system and change in sense of reasoning, he charged parents to ingrain in their children or wards the culture of hard work, perseverance and importance of possessing a good and trusted character.
Apart from past and present members of the districts, Speaker, Oyo House of Assembly, Honourable Micheal Adeyemo; Rector, The Polytechnic, Ibadan, Professor Olatunde Fawole, among other dignitaries were in attendance.