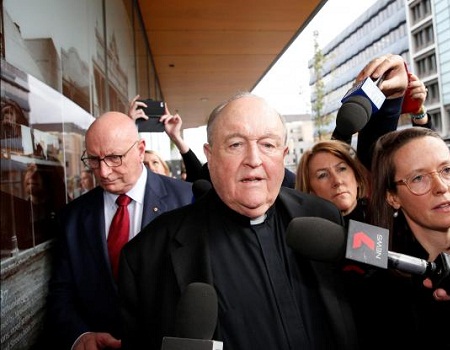 AN Australian archbishop, the most senior Catholic cleric in the world convicted of concealing child sex abuse in the church, was sentenced to a year in detention on Tuesday.
According to Reuters, Philip Wilson, 67, will remain on bail while he is assessed by prison authorities for home detention, instead of jail, and will face court next month for a decision on where he will serve the sentence.
"There is no remorse or contrition shown by the offender," Newcastle Court Magistrate Robert Stone said of Wilson in emailed sentencing remarks.
"The offender is a senior figure in one of the most respected institutions in our society … parishioners were betrayed most callously and cruelly because of their misplaced faith, trust and respect, not only by the perpetrator but as in this case by those who knew and concealed it."
Wilson was convicted in May of not disclosing to police abuse by another priest, James Fletcher, after being told about it in 1976 by two victims, including an altar boy who told him inside the confessional.
Fletcher was found guilty in 2004 of nine counts of child sexual abuse and died in jail in 2006 following a stroke.
Lawyers for Wilson, who maintained his innocence throughout the legal process, had argued that he did not know that Fletcher had abused a boy.
Although his sentence was shorter than a similar verdict in the United States and despite the fact he was not immediately jailed, it was still hailed as an important victory by abuse survivors.
"That is a landmark case right across the world … the conviction sticks," Peter Creigh, who was abused by Fletcher, told reporters outside the court in Newcastle, north of Sydney.
ALSO READ: Stemming the tide of child sexual abuse: Advocates emphasise breaking the culture of silence
The Australian Catholic Bishops Conference, the country's top Catholic body which Wilson once led, said in a statement on it hoped the sentence brought some "sense of peace and healing" to those abused.
Wilson faced a maximum term of two years in jail and the Newcastle Herald newspaper reported he showed no emotion in court when the sentence was handed down. Wilson will be eligible for parole after six months.
Dressed in black and wearing a cleric's collar, he made no remarks to journalists outside the court, television footage showed.
The court was told in December that Wilson had early-stage Alzheimer's disease, a factor that may be taken in to account in determining where he serves the term.
Wilson only stood aside last month as the archbishop of Adelaide.
Allegations of sexual abuse cover-ups have continued to rock the Catholic Church years after perpetrators of sexual abuse started regularly appearing before the courts.
In Chile, the country's 34 bishops in May offered to resign over allegations of a cover-up of sexual abuse.