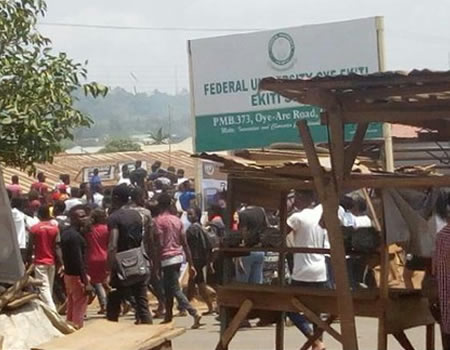 No fewer than 20 people were injured when students of the Federal University, Oye-Ekiti (FUOYE) and commercial motorcyclists, some of whom were said to be indigenes of the community, engaged themselves in a free for all, on Tuesday.
Sources in the community told the Nigerian Tribune in Ado Ekiti that trouble had started when a student and a commercial motorcyclist had an altercation over the fare, which they claimed had degenerated.
A source said "the commercial biker slapped the student and that led to a fight between them, which other students latched into," with the source claiming that "it was as a result of the anger bottled by the students over what they see as their exploitation by the commercial motorcyclists and sundry business operators in the community."
The clash was said to have exacerbated when the commercial motorcyclist was said to have mobilised against the students, who were also not ready to just be cowed.
The injured students were treated at the university's health centre and were discharged, while the sources also claimed that "nobody was so seriously injured as to be admitted."
The incident left some of the students stranded after they had rounded off with their lecture, on the campus as they could not leave because of the tension created by the clashes in the town.
Speaking on the incident, the Public Relations Officer of FUOYE, Mr. Godfrey Bagji, said explained that it was "a clash between some of our students and commercial motorcyclists," saying "it was an incident that happened instantaneously outside the campus."
On the seriousness of the injuries sustained by the affected students, Bagji said: "By the time I got to the health centre, the injured students had been treated and they had left."
He said it was not "really a student versus indigenes matter but students and commercial motorcyclists and we must know that many of the cyclists are not even indigenes of the town."