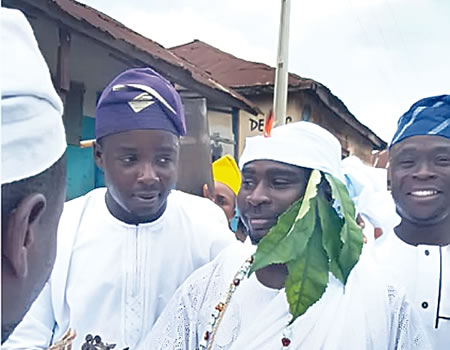 The coronation of the new Araba Agbaye in Ile-Ife was historic as the event witnessed large turnout of Ifa priests. TUNDE BUSARI reports.
To the uninitiated in the Oke Itase axis of Ile-Ife, Osun State, the procession marking the eventual coronation of the new Araba Agbaye, His Eminence Owolabi Aworeni, held last Wednesday, was a mere endurance trek or exhibition of different fabrics of white apparel.
However, to the Ifa faithful within the ancient town and beyond, it was a traditional rite which they must not miss in their lifetime. That ostensibly informed the large turnout of Ifa priests including the Araba Aawo of Osogbo, Ifayemi Elebuibon and other eminent Ifa worshipers at the occasion.
Held at the Ifa Temple at Oke-itase, an all-white structure, strategically located on a hill that overlooks the whole of Ile-Ife, the coronation, which was later followed by wearing of Oro crown, was a huge success, in terms of organization and attendance.
The street procession segment of the event was peaceful even though it caused some traffic snarl which was well controlled by security operatives mobilized to the place to offer protection against breaking of law and order.
It was herculean task to catch a glimpse on the new Araba inside the temple after the coronation had been performed. A battery of reporters from different media organisations had their patience stretched as the entrance door was shut against them until an alternative route was later created for them to enter the hall where seated on his throne was the new Araba.
Incidentally, the hall had only him and a few people. Looking calm in white attire with a green leaf tucked in his headwear, the Araba, 35 spoke like an old man who has seen it all. His voice and content of his message were indicative of his new world as numero uno of Ifa denomination.
Aworeni spoke gently but with much confidence and challenged the Yorubas to work together for the unity of the ethnic group. He said that without unity, Yoruba would always play a second fiddle, despite its huge human and capital resources among other ethnic groups that make up Nigeria.
"What we need in Yoruba now is unity. We need to speak with one voice, we have similar cultural identity and share the same belief , we should work together as one so that we can achieve greatly as a tribe in a nation. Eledumare has blessed Yoruba with all we need to be greater.
"I have travelled to different countries and used that experience to appreciate us better. Yourba is a leading light among black race all over the world. It is a blessing that we are Yoruba. Here in Ile-Ife is the source. We should therefore explore the opportunity well," he said pleadingly.
The Araba specifically called on traditional religions adherents too to eschew bickering and disharmony among one another, urging them also to be more focus in propagating the religions they inherited from their forefathers.
Promoting culture and tradition, he noted, is their collective responsibilities as custodians who must always encourage the younger ones to study and practice the doctrines of ifa traditional religion and Yoruba culture as a whole.
As his new status requires, according to him, he would stop at nothing to play a key role in uniting them with a view to consolidating the landmark achieved by his predecessor, who incidentally was his father.
Nigerian Tribune gathered that the renovation and upgrade of the temple was supervised by the late Araba Agbaye with fund secured from Osun State Government.
"The standard which my father has set before he passed on is such that I cannot afford to bring it down. I must not only sustain it. I must take it higher. I will continue to project Ifa religion and also ensure harmony among people of Yoruba at home and in the diaspora reigns supreme," he assured.
The Araba Agbaye noted the attitude of Muslims and Christians, whom he alleged to be engaging in condemning traditional religion worshippers on radio and television in spite that Nigeria is a secular state. He regarded such practice as demonstration of ignorance and advise his followers to continue to tolerate them.
"Our religion means peace. So, we have no reason to derail from that path. I believe those ones don't know that they should not be seen to condemn other religion. We are all Yoruba, children of Oduduwa, we cannot afford to use that religious difference to fight one another," he said.
The traditional rites lasted for days at various places including Oke Itase, Akodi Gidogbo and many others. The Araba Agbaye is said to be the symbol of Orunmila on earth and he is expected to live that status. "Here is the source. I am the representative of Orunmila. All I do here are not done by myself but with spiritual guide of Orunmila," he clarified.