POLICE in Enugu on Tuesday barred members of the Assemblies of God loyal to the embattled General Superintendent of the church, Reverend Dr Paul Emeka from gaining entry into the National Secretariat of the church located at Plot R8, Ozobulu Street, Independence Lay-out, Enugu.
A detached armed policemen fired tear gas sporadically into the members of the church to disperse them from marching into the secretariat which they lost to their rivalry group led by Reverend Chidi Okoroafor who claimed he is now the General Superintendent of the church.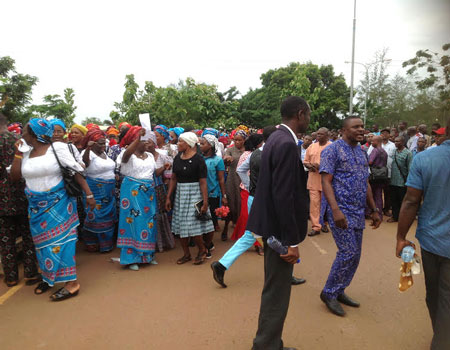 Scores of the protesting Assemblies of God members mostly women were wounded while trying to challenge the security operatives who insisted the Secretariat "is no-go area" for them.
The Reverend Emeka supporters had earlier gathered at Assemblies of God, New Haven, also in the metropolis where they were addressed by their Leader (Reverend Paul Emeka).
Reverend Emeka told them that the document the Reverend Chidi Okoroafor is parading is fake as it did not come from Supreme Court.
According to Reverend Emeka, "If the Supreme Court has given an order that Chidi should go in and Paul Emeka to go out, I would have gone whether Chidi is right or wrong"
"Why use self-help if Supreme Court had given such an order to exit me from office?"
"What pains me most is that Chdi was my student. I taught him. I want to let you know that Paul Emeka is not the problem in Assemblies of God. Even if I resign now many people have sworn no to work under Chidi and his cohort."
The Cleric maintained, "The occupation of the Secretariat is evil. They want us to surrender. But we will not surrender to coup plotters. We will not surrender to those who do not know their Bible. We will not surrender to those who came to Assembly because of money. We will surrender to truth. We will surrender to God."
"Let police do what it should do. The Police should not pretend. However, the Court has told us to take back our possession. We are going to reclaim our secretariat," Emeka remarked.
In the suit no: FHC/EN/CSS/52/2017 which was made available to NIGERIAN TRIBUNE in Enugu, the Federal High Court, Enugu, presided over by Justice R. O. Dugbo-Oghoghorie granted an interim order to Emeka group, "retraining the police from stopping, restraining, preventing or in any manner whatsoever continuing to inhibit, lock out or exclude the Applicants namely Reverends Dr Raphael Itotoh, Emmanuel Ngene and Daniel Amaugo.
The clergymen had challenged the Commissioner of Police, Enugu State, Inspector-General of Police, Police Serving Commission and Attorney-General of the Federation at the Federal High Court, Enugu over the alleged illegal occupation of their secretariat by the police.