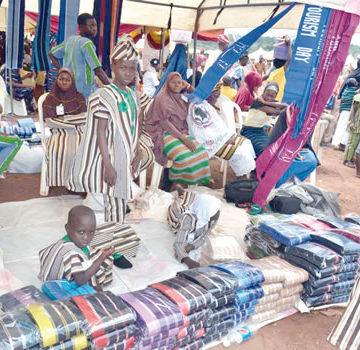 ASO ofi is the traditional wear of the Yoruba ethnic group in southwest Nigeria. It is a cloth that is worn on special occasions. The cloth is worn during chieftaincy, festivals, engagement, naming ceremonies and other important events.
Weaving of aso ofi started centuries ago in Yorubaland, particularly in Iseyin, (Oyo-State), Ede (Osun State) and Okene (Kogi State). It is an all-season attire which comes in different shades and colours.
Also, aso ofi serves as a means of reinforcing social identity and solidarity among group members. The culture has gained acceptance and spread across other ethnic groups in Nigeria.
There is no doubt that the elevation of aso ofi as the symbol of Yoruba national identify has been a strong factor in the sustenance of its usage, thus, making it essential to the social, political, economic and cultural life of the people.
This will definitely improve our internally generated revenue (IGR) and uplift the economy of this state. It will as well promote indigenous market, boost economic growth of the state, create more job opportunity for youths.
If our locally fabricated textile materials are properly harnessed and promoted by indigenes as well as residents of the state, it could be a viable tool in addressing some of challenges of the State especially in terms of unemployment generation, industrial development, poverty eradication, elderly support, youth empowerment,e.t.c.
Kudos to the Oyo State government for laying foundation of Aso-Ofi International Tourism Market in Iseyin, which will contain 500 weaving sheds/workshops, 500 exhibition shops, a warehouse, the first indigenous textile museum in Nigeria, a fire station, a clinic and a police station.
I want to urge all well-meaning individuals, corporate bodies, professional bodies and non-governmental organisations to join hands with the government to build the first-class International Market that will make Iseyin a hub of aso ofi in the whole globe.