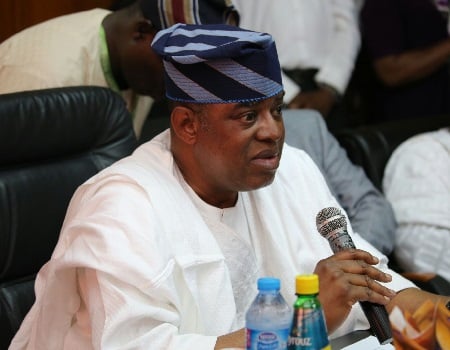 In a recent interview with Gloomme Tv, the Senator representing Lagos East Senatorial District, Senator Gbenga Ashafa, indicated he would be running for another term in the Senate. The Senator representing Lagos East Senatorial District expressed confidence in his achievements as a senator both in legislative activities and the citing of meaningful projects in his constituency.
Well, it is not uncommon for public office holders to seek reelection particularly in the legislature, which has no term limits, but we will all agree that not all of them are worth being voted back into office especially due to underperformance.
In his words, Ashafa who hails from Ibeju – Lekki stated that "My constituents have shown me tremendous support and are offering to pick up my party's nomination form to recontest the election on my behalf. Who then am I to say otherwise or to put down the faith they have in me by not running for another term."
Speaking further, the Senator stated that "The work I have been able to do speaks for itself. Whether it is by the way of legislative interventions like the Nigerian Railway Bill/various railway projects that are directly beneficial to Lagos State, the NIPOST bill, topical motions, or the various constituency intervention projects including ICT/skill acquisition programs, renovation of schools, potable water projects, upgrading of facilities at healthcare centres, several other scholarships and women empowerment programmes amongst others; It is this understandable why they want me to run again."
ALSO READ: Osun 2018: Gale of defection can't stop APC's victory ― Aregbesola
Senator Ashafa also praised Asiwaju Bola Ahmed Tinubu for his vision and leadership by taking the bold and unpopular step of nudging the party towards adopting an open primary system where every card-carrying member of the party will have a stake in deciding to bears the flag of the party and not just a few delegates.
Asked about how he fancies his chances in the coming primaries against other tough contestants from Lagos East, Ashafa responded with confidence stating that "the mandate remains with the people. I have remained with them by ensuring that I deliver on the mandate I was given by my people. Their unyielding clamour that I return for another term, makes it clear that they have kept faith with me. I am confident of victory."
Ashafa's interview which has since gone viral on the social media has generated a lot of positive reviews across the board. It shows that he has maintained a connection with the younger demographic who have identified him as a transparent, engaging and model Senator.