BEFORE the killing of 25 commuters in Jos North local government area of Plateau State on 14th August, 2021, the city of Jos had enjoyed relative peace — although there had also been some attacks across the state. It would be recalled that Jos, the capital of Plateau State, was once known for ethno-religious crisis which spanned more than two decades.
When the incumbent governor, Mr Simon Lalong, assumed power as Governor of Plateau State in 2015, one of the greatest challenges the administration had to contend with was insecurity in parts of the state. But relative peace was achieved through multi-pronged approaches. The governor established the Peace Building Agency, which fosters dialogue and reconciliation at different levels.
Despite this approach and relative peace in Jos, the northern part of the state, especially Barkin-Ladi, Riyom and Bassa local government areas continued to record attacks and counter-attacks mostly between the natives of Berom, Irigwe and Fulani.
From January to August 2021, at least 200 hundred people have been killed in these areas, while many communities have been sacked. The dangerous dimension recently introduced to the crime wave in these local government areas is the attacks on farms.
Appalled by the destruction of farm crops, especially in Bassa and Riyom, Governor Simon Lalong described the action as callous and criminal.
Lalong said: "The recent case of such intentional decimation of farm crops in Kpachudu, Jebbu Miango in Bassa Local Government area is condemnable and unacceptable. From the reports, this is a carefully planned and executed act that is not only meant to provoke crisis, suspicion and instability in the area, but also render the victims poor and hungry. What these criminals fail to understand is that such actions will eventually leave the entire State and the country with food shortages where even the perpetrators will not escape."
In the last four weeks, residents of Kpachudu, Kpetenvie, Niche-Tahu, Tafigana, DTV and Zahwra have also been displaced from their communities.
Speaking on the recent attacks in the state, the President, Evangelical Church Winning All (ECWA), Rev. (Dr) Panya Baba, had, in August, expressed concern over the situation.
He said: "What is so sad and inexplicable is that many of the villages where these killings and burnings are taking place are located behind the 3rd Armored Division Barracks of the Nigerian Army. Yet, these militias are allowed to continue their heinous murders and carnage without any intervention by the Nigerian Army and other security agencies. This, in the least, is very fastly eroding the confidence of the populace in the military and security agencies, as unbiased protectors of all, devoid of tribe, ethnicity or religion."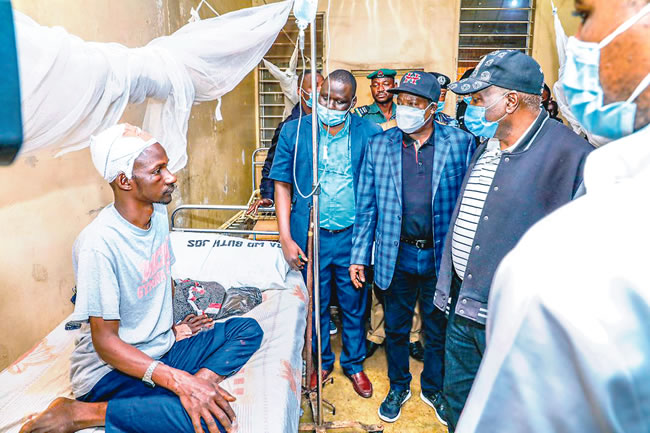 25 tavellers killed on Jos highway
Some Irigwe indigenes were said to have set out for the burial of seven of their kinsmen after retrieving the corpses of those killed on 29th July and 9th August from the Plateau State Specialist Hospital, when trouble started along Rukuba Road in Jos North local government area.
Travellers in five buses said to be returning from an Islamic programme organised by Shiekh Dahiru Bauchi in Bauchi State were reportedly waylaid by some irate youths along Rukuba road in Jos. In the melee that ensued, twenty-five of the travellers were killed and many others sustained injuries.
As information filtered into the city centre, tension enveloped the air and traders hurriedly closed their business premises. The state government later declared 24-hour curfew in Jos North and dusk-to-dawn curfew in the neighbouring Bassa, Jos South and Riyom local government areas, respectively.
Findings revealed that in the confusion that lasted till Monday, properties, including pplaces of worship, were destroyed. Parts of the Redeemed Christian Church of God, Redemption Parish, along Bauchi road, were burnt. Two female students of the University of Jos were also reportedly killed. There was also tension in places such as Bauchi road, Angwan Rukuba, Tina junction, Nasarawa, Congo Russia among others.
Altough a special police team has been drafted to Jos with a helicopter for aerial surveillance to arrest the situation, there is a strong indication that the spontaneous reactions to the recent killings are a sign that religious and ethnic jingoists are yet to fully embrace peace.
The Governor alluded to this when he declared that the incident and reprisal that followed were a criminal act and a ploy to take the state back to the time of religious crisis.
"We want to assure the people of Plateau State. We will not allow this to go on. Some people have been arrested; you will see what will happen to them. And this is a clear warning to anybody who wants to use this as an opportunity to bring back what we have already forgotten.
"We have made some arrests and they would be prosecuted accordingly. People should not be scared. Also, people should stop sending wrong information; it is dangerous. When we say we are scared of social media, you journalists were complaining and many of these things are happening as a result of wrong information by the social media.
"I want to say that we are going after these people. If you send the wrong video that led to the killing of people, we would go after you. Those sending wrong messages either through the church or mosque, we are watching. If you have any information send it to the police for verification," he said.
Another 35 killed in Yelwa-Zangam
Residents of Yelwa Zangam community of Jos North local government area of the state were attacked last week, with no fewer than 35 people killed in a midnight raid from Tuesday till the early hours of Wednesday.
The attack was a surprise to many because the dust over the recent killing of 25 travellers and the reprsisal that followed within Jos was yet to settle. The latest development forced the state government to re-impose another 24-hour curfew in Jos North local government area.
Piqued by the incident, a human rights activist, Comrade Patrick Musa, expressed concern over proliferation of arms and urged the government to ensure justice for victims.
"Violence keeps recurring in several theatres across the country, especially in Plateau State, because the perpetrators always get away with their sordid acts since they are never prosecuted.
"How come the chain of violence which spanned two decades has never been probed and perpetrators brought to book? The killings and destruction of farms have been going on for more than two years in Irigwe land and no one has ever been arrested.
"If perpetrators are not arrested, we will continue to experience the cycle of violence no matter any peace initiative put in place by the government," he said.
On his part, the Chairman, Miyetti Allah Cattle Breeders Association, Plateau State chapter, Mallam Nura Muhammad, called for justice.
Also speaking on the development, the National President, Irigwe Development Association, Prince Robert Ashi, said: "To arrest the situation, the government should let the public know those responsible for this evil act and take measures to safeguard the lives of people of Plateau State, especially Irigwe where these attacks are being carried out.
"Whoever is responsible, the law should take its course and the government should avoid sentimental utterances. We are in Nigeria and nobody is above the law."
YOU SHOULD NOT MISS THESE HEADLINES FROM NIGERIAN TRIBUNE
Lagos Is Second Least Liveable City In The World For 2021
Lagos is the second least liveable city in the world for the year 2021. This is according to the most recent annual ranking put together by the Economist Intelligence Unit (EIU)…
FACT CHECK: Did UNICEF Say Blocking Children's Access To Pornography Constitutes Human Rights' Infringement?
CLAIM 1: A Twitter user claims UNICEF said any efforts to block children from accessing pornography might infringe their human rights.