Chairman, House Committee on Local Government Administration and Community Affairs and member representing Mushin Constituency 2 in the Lagos State House of Assembly, Olayiwola Abdulsobur Olawale, spoke to SEGUN KASALI about his life.
MUSHIN people have their own peculiar behaviour. You are from Mushin. Do you behave like a typical mushin person?
There is no way you can stop behaving like a Mushin man because situations will elicit some behaviours expected of someone from Mushin. That I am educated does not mean I don't have Mushin blood in my veins. So, the last time I could recollect that I exhibited such a behaviourwas when we went for a birthday party recently. I gave some boys a certain amount of money which I believed was good enough. Unfortunately, the guy said in Yoruba language: "eleyi o kin se owo wa" (this is not our money). I told him that if it is not your money, then return my money. He replied and said that "if not for the fact that you have been settling us, we know what we would have done." I told him to do whatever he wanted to do, but also warned him that I am from Mushin and will prove it to him. People started pulling me, saying 'ah, ah, honourable! I said they should forget the honourable part that I needed to show those guys where I am from. We too were once boys. I told them that I had been on the streets before.
How much of the street did you have in you back then?
I was once a bus conductor. During the June 12, 1993 period, we had buses parked outside, but there was no one to drive them. I said to my friend that we couldn't be in the house and be suffering. So, we went out with a bus for quick business. He was the driver while I was the conductor. From Mushin, we first plied Gbagada. For close to three months, I was a conductor.
Why that option?
It was hunger that drove me to that extent. We were at home for days without food. That was the time we were using sawdust to cook meals. That was the time that if you had money in the bank, bank would not give it to you. Things were so difficult for me. I am someone that is very active and didn't want to be lazy. After the daily protests, I would go for the transport business. It was the money made that I would bring home. As a graduate, I didn't know I could do that kind of job.
Hunger led you to protest too?
No. We were fighting for our rights, the restoration of democratic rule in Nigeria following the annulment of June 12 election that year. My father's house was in Gbagada. We used to block the bridge linking Gbagada to Ikoyi. I remember that Abacha sent military men to the area and a particular boy fell down. We equally received the then  US Ambassador- Walter Carrington – that time and forced him to address us.
How did your parents react to this?
My parents were not alive at that time. However, I am sure that if anyone had told them, they wouldn't have stopped me because they knew I was doing a genuine job.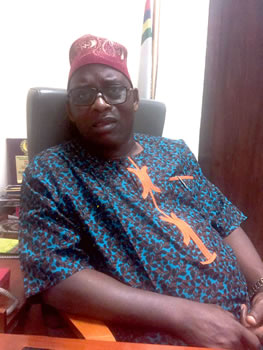 What about insults from passengers?
A graduate would put finesse into it. As a graduate, the way you conduct yourself will be different from others. The passengers were happy that we were conversing in the English language. A majority of the passengers then were civil servants, bankers and so on. So, when they talked and you told them that you are a graduate, they didn't look surprised because they knew it was the situation of things in the country then.
What are the lessons you learned from the streets?
The streets opened my eyes to many things, especially how people are feeling. Honestly, that formed my attitude of giving to the people. When I saw the terrible situations that people were in then, I felt that I needed to assist them. It was not the first time I would indulge in that kind of thing. When I got married and we had our first child, things were also tough. I was earning N5,000 as Operation Manager in a company. That was not enough to even take care of my child's food. I became a supplier. I supplied granite, sand, cement and others. I had to do such odd jobs just to survive and it worked because I made a lot of money.
It must have been hard going to school
Yes it was very hard because I lost my parents while I was between 19 and 21 years old. I could say I am a self-made man because I paid for my NCE programme and while I was a teacher, I was also going for Distance Learning programme at the University of Lagos. So, it was the little I was earning as a secondary school teacher that I used to pay my school fees. So, things were very tough but I had some uncles who assisted me. It was very difficult combining academics and work because where I was teaching was far from Lagos. I was teaching at Ajebo Community High school in Ogun State. So, I would come for the programme every Saturday and I would be in school early in the morning on Monday to teach. But that arrangement affected my studies because a journey that was supposed to take five years took me six years to complete. It wasn't because I wasn't brilliant, but funding was not available. Second, shuttling between Lagos and Ogun states was very difficult. At times, I would not have money to eat for the weekend.
Today how do you see that experience?
I am extremely grateful to God because it prepared me for leadership position. I was born with a golden spoon, but the privilege was taken from me by the death of my parents, which sadly happened very early in my life, and which prepared me for the future. I made sure I had that educational foundation. When I was a supplier, my education worked for me when we were preparing for the Nigeria 99 at the National Stadium. In 1998, the construction company that was doing the grassing at the National Stadium wanted a supplier that would provide them with sand but they could not communicate with the local suppliers. Someone directed me to them and I was able to converse with them. They were happy that they could find someone to talk to them in their language. So, I moved from that place to Abeokuta to get them sand because they needed sand from Ogun State. Glory be to God as this turned to lots of money for me. That was where I made my first million.
Does this mean you didn't miss your parents?
I missed them. I was very close to them. With the training they gave me, I thought that the sky was my starting point. My parents were willing to send me to whichever level I wanted to go in terms of education. My father was a cocoa merchant. He had a transport company too. All of a sudden, he died. Six months later, my mother also died. It affected me, but it really made me to get serious.
You met your wife in the midst of the struggles?
She was one of those who benefited from the money I made while I was a conductor. She didn't know initially, but I was forced to tell her that the food I had been providing came from the money I made as a conductor. We were courting each other then. I met her through my uncle's wife and I told her immediately that she was going to be my wife. Being the respectful type, she said "Ah brother Ola! What is this that you are saying?" I said 'look, we are going to marry each other.' It was because she had been calling me brother and how could a brother say he wants to marry her? But we eventually got married.
What was the attraction?
My wife is very understanding. She is beautiful, very loyal and committed to my cause. She is a good woman. From 1996 to date, over 22 years that we got married, I have not had a cause to invite a third party into our affairs. We resolve whatever the problems are between ourselves. Third parties destroy relationships. Even your parents should not be allowed in your affairs. For you to understand your woman, you must have undergone a lot of procedures, involving observations and investigations. Also, those years spent together would make you understand each other.
What does she want you to stop doing?
She wants me to come home early. From my office, I go to club to mingle with my friends. At times, when I come home late, she would protest.
Was there some level of mistrust?
Who doesn't go after other women? Anyway, they will chase you if you don't chase them. As a politician, a lot of women run after us because they believe a honourable member is in money.
How true is that?
It is not true because not everyone of us has the money they think we have. What they don't know is that some of us are professionals. Some of us were doing businesses before we got into politics. They see us as money spenders, whereas a reasonable politician will spend his money judiciously because time and tide wait for no one. If I have the money now, who knows what will happen tomorrow?
How do you unwind?
I love dancing. I dance to all those local musicians. I love Fuji. For juju, give me King Sunny Ade and you have made my day. Also give me KWAM1 and when it comes to Mushin stuff, you give me Pasuma.
Do you have near-death experiences?
I don't know whether it was out of rascality. A childhood friend called me without knowing that he had put a live wire at the entrance of the door. When I did not see him, I became worried. As I touched the door, the live wire shocked me. Perhaps he didn't know that what he did could lead to death. It was part of the rascality we indulged in as boys in those days.
What is your indulgence?
Anything that fits. At times, I put on a national dress because it is one of the ethics as a lawmaker. So, both suit and agbada go for me.
How did you come about your nickname Omititi?
I came about the name in 2003 when we went for campaign. I was contesting for House of Assembly election that time. We were four contesting. Others had gone to make their intentions known to our leaders. So, I deliberately did not go when they were going. I was the fourth to make my interest known to our leaders and followers. Those who followed me were many. As we were singing a song that I am the son of the soil, people would shout 'Omititi.'