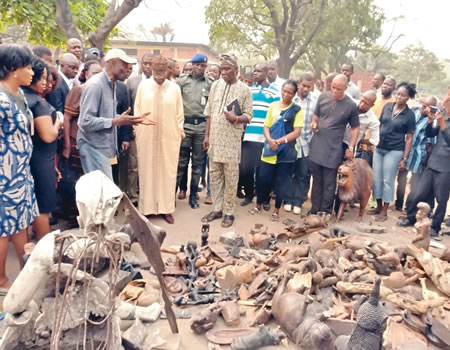 AFTER almost two years of fruitless wait for the N20 million compensation they were promised by the Federal Government, artists whose studios and performance spaces were demolished at the Artists Village, National Theatre, Iganmu, Lagos have gone to seek redress in court.
The studios and performance spaces at the National Council for Arts and Culture Artists' Village were demolished at dawn on January 23, 2016, under the supervision of the ex-General Manager of the National Theatre, Kabiru Yusuf.
Apart from destroying property worth millions of naira, a number of the artists were also brutalized by policemen who came to supervise the demolition. One of the artists, sculptor Smart Ovwie, was shot in the leg.
The Minister of Information and Culture, Alhaji Lai Mohammed, who visited the Artists Village later that day promised that the injured would be supported for their treatment and that legitimate residents would be compensated for their damaged structures.
In a statement by Kingsley Agubom, Deputy Coordinator, Artists' Village Network, the artists expressed regrets that Mohammed has reneged on his promises, hence their resort to the court of law.
He said: "On 13th April 2016, we received a letter dated 6th April, from the Minister in which he promised to pay a sum of N20, 000, 000 as compensation on behalf of President Buhari's Federal Government. He also made further promises relating to infrastructure and capacity building.
"We strongly believe that President Muhammadu Buhari is an honourable man who will under no circumstances, allow innocent and hardworking Nigerians who promote our Arts and Culture to suffer. We, as members of Nigeria's creative sector, find this situation appalling and feel it should be unacceptable to right thinking Nigerians.
"It is important to inform at this point that the Executive Committee of NCAC Artists' Village Network, after due consideration and deliberation and after fruitless efforts to get the Minister to keep to his word, has engaged the services of the law firm of Momson, Solanke& Co Solicitors to represent the community in the matter.
"We are resolute in our commitment to the protection of the civil and human rights of our members who have been working in the rain and sun for two years now due to the insensitivity of a Government that has failed to recognize their invaluable contribution to the development of national culture."