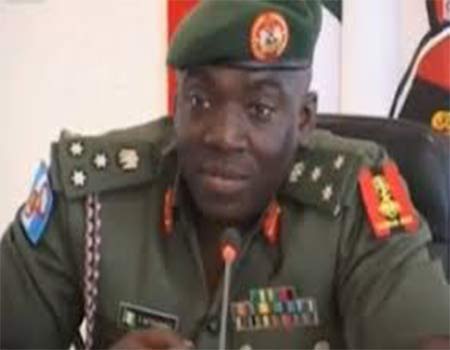 The Nigerian Army has launched a new mobile strike team aimed at reduction of ambushes and sudden deaths of their personnel even as they count down eighteen days to the capture of the king pin of the insurgency Abubakar Shakau.
Launching the outfit Tuesday at the Marmalari barracks, theatre Commander Major General Ibrahim Attahiru said that the outfit is made up of specially selected forces with mixed equipments and platforms to achieve the conduct of long range patrols deep into the Sambisa.
He said the mobile strike forces would equally be used to stop the frequent spates of ambushes that have been affecting personnel deep in the theatre.
General Attahiru revealed that the group of almost two thousand soldiers were trained to enhance operational efficiency in the theatre considering the recent upsurge of suicide bombings and ambushes which had led to unnecessary loss of inadequate personnel.
According to him, "success in battle entails a ruthless determination to succeed at all costs. This is why I urge you to be disciplined, confidence and focused so there would be zero defects in their pursuits against the terrorists.
"You will be responsible for all our supply routes and most of the rural settlements within the area of operation. As a matter of fact, your effectiveness is the foundation upon which our tactical and operational end state will depend."
Earlier, the theatre commander attended a forum of military  civil relationship in which he asked troops to continue to maintain balanced relationship with the civil populace.
Commander of the civil military operations in the Army Major General Nuhu Angbazo said that he was in Maiduguri to continue the massive awareness being carried on among soldiers in all the division's of the Nigerian Army.
He said that he has a responsibility to monitor what is going on in all the theatres of war in the country and to ensure that human rights are maintained accordingly.
Angbazo said that they have created a human rights desk in all the division of the Nigerian Army so that the members of the civil populace can report regular infractions with the military.
He said that the case of the amnesty international report is still being handled by the office and very soon details would be revealed about it.
Highlights of the launch was a show of force by the soldiers who had a special pep talk with the theatre commander
The theatre commander and his various field commanders have less than twenty days to produce the main factional commander of the Boko haram Abubakar Shekau who has been alleged to be moving all over the Sambisa and even Maiduguri to escape their traps.
The Army with some police men were also said to have stormed the UN building at pompomari bypass at the wee hours of last Saturday morning looking for ammunition or any evidence that there was complicity between the insurgents and the humanitarian agencies.