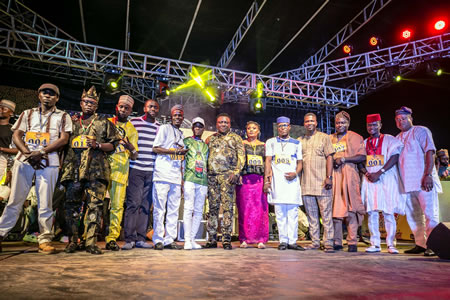 The old rivalry among Fuji musicians will soon be a thing of the past as Ibadan-based Fuji star, Taye Akande popularly known as Taye Currency, has declared his intention to unite the arrowheads in the forefront of the dispute.
This revelation came during the performance Taiye Currency at the Semi-finals of the Ariya Repete 2018, at the National Stadium, Lagos last weekend, where he said he has since adopted Fuji exponent Said Osupa as his father and Wasiu Alabi Pasuma with whom Osupa is in contention with as his older brother.
He hinted that the duo remains his mentors and that he cannot for the long rivalry to end.
It will be recalled that Osupa and Pasuma have always been in contention of who deserves to be called the King of Fuji music, a title which the latter has always laid claims to. This claim has in the past pitched most of the Fuji musicians, as well as their fans against one another.
With this latest effort by Taye Currency, it is hoped that the age-long rivalry among the frontline fuji musicians and long-awaited peace will reign among the musicians in the Fuji genre.
The grand of talent hunt competition organised by Goldberg Lager Beer will feature talents display of the finalists including Ayegbayo Oluwaseun, Bukola Ahmed, Ode Ayomide, Abiola Oloto, Asafa Oluwanisola, Wale Crown Femi Bright Ayotunde, Saheed Akande, Muhammed Adewale Sualimaon Ajao. The Drummers Group includes Ifesowapo, Sakuba, Oludare, Igabiwase, Bata of Africa, Eniafe, at the Trans Amusement park in Ibadan, the Oyo state, on May 11.