Aregbesola urges CSOs, NGOs to campaign against drug abuse among youths
The Minister of Interior, Ogbeni Rauf Adesoji Aregbesola, has charged civil societies and non-governmental organisations in Nigeria to campaign against drug addiction and encourage youths to see education as the key to development.
Ogbeni Aregbesola gave the charge when he played host to a team of the Center for Peace and Environmental Justice (CEPEJ) which visited him in his office in Abuja.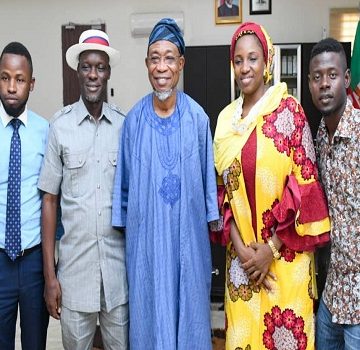 He advised CEPEJ, a Niger Delta-based organisation, to focus on education and advocacy towards eliminating drug addiction and ensuring security nationwide.
He lamented that education, which is the bedrock of all forms of development, is very poor in Nigeria, saying that any efforts made by civil society organizations such as CEPEJ to bridge the gap as obtained in the developed world would be highly appreciated.
Ogbeni Aregbesola, who was former Governor of Osun State, commended CEPEJ for its activities and projects so far.
He encouraged the CEPEJ team to sustain the energy with which it has been driving the mandate of the organization.
ALSO READ:  US government selects Aderonke Bello for Global Sports Mentoring Programme
He described peace and security as the basic factors for overcoming the challenges inhibiting engagements with government and its agencies, stressing that security is the fulcrum of national sovereignty.
He, therefore, stressed the need for stakeholders to make security a community affair so as to effectively manage the insecurity situation in Nigeria.
The APC chieftain emphasized that when community people are involved, there will be a drop-in security challenges such as kidnapping, insurgency and all forms of crime.
He expressed his strong desire to be part of CEPEJ's 10th annual conference, especially to play the role of a keynote speaker at the event, provided his schedule was clear.
He was excited to note that youths involved in the development sector deploy their private funds as opposed to a situation where youths want to be in governance with little or no management skills or experience.
The Minister of Interior wondered how CEPEJ had been funding its numerous activities, given the level of success achieved so far, and promised to support the organization towards moving it forward.
Responding, the National Coordinator of CEPEJ, Comrade Sheriff Mulade remarked that over 90 per cent of the NGO's funds for administrative and programme activities comes from a private source, a philanthropic arm of his business.
Mulade thanked the minister for hosting the CEPEJ team and promised to work on the advice to the NGO to develop programmes in collaboration with the ministry.
He appealed to the minister to honour CEPEJ's invitation to its annual conference on the 12th of November this year.