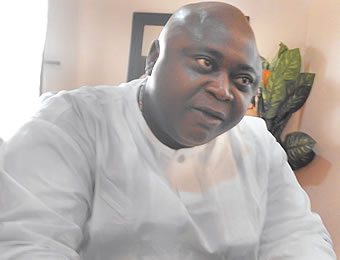 A member of the House of Representatives, Honourable Oladipupo Adebutu, has said that the All Progressives Congress (APC)- led Nigerian Government has classified the country into first, second and third classes, thereby fueling agitation for succession led by the Indigenous People of Biafra(IPOB).
The lawmaker representing Remo Federal Constituency in the National Assembly said the Easterners have suffered over a period of time hence the agitation to break away from Nigeria.
He stated this while featuring during an interactive session organised by Ijebu News Xtra magazine with the theme " Ogun Youths: Today, Future in politics of development", held on Sunday, at the Ijebu-Ode.
The Chairman House Committee on Rural Development, explained that the South East region like other regions in the country have issues with the present structure of the Federation, however, submitted that "there is no alternative to the unity of the country."
Adebutu, equally said that such agitation must be non-violent and that the reason for such must not be lost in the noise.
"I believe in one Nigeria. For me, there is no alternative. Yes, we have issue with the Federation and I am certain that as we continue to discuss and debate the issues, it will improve.  It is not easy. I feel bad that vast majority of the Value Added Tax (VAT) generated from this area (South West) does not stay here. And I am sure if we ask other people from various parts of the country, they would have something to say as well.
"However, divorces are not easy even in the best societies. You see the trauma the European Union (EU) is going through as Britain is trying to exit, how much more this our own recent and nascent federation.
"Yes, people have reasons and right to protest. But like Deputy Senate President, Senator Ike Ekweremadu asserted, it has to be done correctly. It has to be done such that the issues are not lost in the noise and if it is not properly handled this can happen.
"The people of South East have one issue or the other. They have suffered over a long period of time. During the 16 years reign of PDP, the party was capable of creating an environment where all Nigerians have the feeling. Yes, I may not be too happy, but the house will not be broken down.
"The body language of this government, the body language of APC tend to suggest that there is first class, second class and third class citizenry in Nigeria. To me, that has been the main reason fueling this agitation.
"It is now imperative that people of Nigeria should take cognizance of this characteristics in people they elect into office."
Adebutu berated Ogun State government over what he called misplaced priority.
Speaking on the upgrading of Moshood Abiola Polytechnic to university status, he said "the truth is that Ogun State can afford 10 universities, but this present government is not getting it priority right."
While urging youths to embrace enterpreneurship and politics of ideology, he promised an "all encompassing government" if elected as governor come 2019.
"When the road going from Sagamu  to Abeokuta was expanded, the last government deliberately built houses so that those  who would be affected would be relocated.
"Now, when we have this present situation, when people are still sleeping outside, they are sleeping in the rain, internally displaced indigenes of Ogun State in Ogun State. It is sad and it is because we have elected people that have no compassion for fellow human beings. The body language of those in power is such that all men must be at peace with them," Adebutu expressed.