APC is not losing out in Osun — Jayeola
In an interview with Honourable Lateef Jayeola Adebisi, a member of the Osun State Assembly representing Ila constituency by ADEKUNLE SULAIMON, he stresses the political strength of the APC in the state, his relationship with Chief Bisi Akande and what the people of his constituency should expect from him. Excerpts: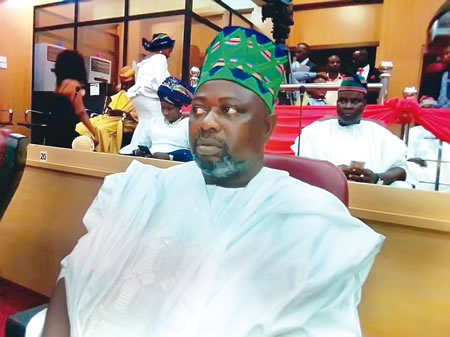 Having toured your constituency to canvass for votes in the last election, what are your experiences, before and after the poll?
I did not see my victory as more challenging because I have been identifying with the people of my consistency for quite a time, and interestingly, they know my antecedents. Even when I rolled out my posters and at the start of the campaign, it was with all enthusiasm that they accepted me and that was the reason I was able to defeat my closest rival with more than half of the votes. I have even been with them prior to my contest. This is something I learnt from Chief Bisi Akande. He's my father, political mentor and adviser. He invested in me politically and made the people see in me why I needed to be supported.
He also didn't fail to instil in me the need to operate a 'no-door policy' and it has really been working for me in all aspects of my career. For this singular reason, I will forever be indebted to him. For my people, I have always enjoyed their support, they stand by me in the thick and the thin. In all sincerity, nothing has changed about me other than the fact that my status has changed politically.
You would be surprised to know that I started politicking when I was a petroleum marketer. I served as the Public Relations Officer of the Independent Petroleum Marketers Association of Nigeria (IPMAN), South-West chapter. You know, there, you cannot compromise the members because they are a group of millionaires or billionaires, holding office in this association entails competency and a peak level of meritocracy too. So, my interest is in building a relationship with the people rather than just giving them a peanut to steal their mandate.
How would you describe the election that brought in the principal officers of the state House of Assembly? There was an allegation of imposition.
Imposition? Never. Anyway, the election that brought those principal officers are not only a free exercise but a fair one at that. Apart from the little experience I garnered at IPMAN, I have never held a political office before. Take a critical look at Mr Speaker, Honourable Timothy Owoeye, it is his fourth term in office, he had previously served as a Minority Leader of the House. Don't forget that nobody among the members has acquired to a greater extent the experience he has, had as far as the Assembly is concerned.
Now, the deputy speaker, Honourable Femi Popoola, a lawyer who has served as a ranking officer before now. Who would have deserved that position more than this witty lawmaker? APC has a lofty structure that promotes merit over deficiency. The party does not let money or material things becloud its chieftains of doing the right thing, unlike other parties. We, the party members, are not mischievous or shall out of our own sheer shenanigans, deprive someone what he/she truly deserves.
Besides, when I stood for election, it was not to become the speaker but to be the representative of my constituency at the state level. None of the principal officers is new to the affairs of the Assembly. They are all returning members. What experience has a new honourable member to become a principal officer? Except for the minority leader or chief whip, who can be taken by a first-term lawmaker? The truth is that the APC does not impose. I have also been a victim of this assumption, but when things were clearly explained to me, I reasoned along that there was the need for me to step down because my profile did not match up with the person we both wanted the party ticket at that time.
In a clearer term, it was between me and Honourable Femi Fakeye. We both had an interest in contesting for membership of the House of Representatives. After reviewing his credentials – a former Managing Director of a bank, someone who floated his own bank when I was still at the university, I was convinced beyond reasonable doubts that he merited it more than I did.
Osun once noted as the most peaceful state is now being tormented by insecurity. What is the assembly doing to curtail the trend?
The state of insecurity is not as worse as it is being reported in social media. Governor Gboyega Oyetola is making efforts to dot the i's and across the t's. The recent report by the United Kingdom warning its citizens not to travel to some 21 states in Nigeria did not include Osun.
Recently, the governor met with the Chief of Army Staff in Abuja and the issue was extensively discussed and the effort is yielding results already. On our own part, the assembly members are working towards passing a law to recommend stiffer punishment for convicted kidnappers. Osun is maintaining the status quo as one of the most secure states in the country.
How true is the rumour of a tourist airport construction spreading like a wide fire in your state constituency?
Anyway, I have an inkling of this viable project and want to pray as well for the fruition of it. It was actually foreign investors that were planning on having a tourist airport in Osun, and Ila Local Government per se. The top stakeholders involved, including me for the establishment of this project have been meeting to make sure that it becomes a reality as plans are ongoing at the top gear that the necessary documents be signed.
The truth about it is that the people conceptualizing it are not faking us, with even Chief Bisi Akande deeply involved, we could be assured that it is true without any doubt. But until every process is met, it remains an unrealistic project.
The APC came out with a mixed bag of results in the 2019 general election, aside from the governorship poll. The party lost three House of Representatives' seats, one Senate and three state assembly seats. Won't the result affect the party in future elections?
Let me begin with the state constituency election. The APC produced 23 lawmakers out of the 26 state constituencies. This result clearly indicated that the majority of the Osun indigenes wanted APC. One of the three House of Representatives' tickets lost to the Peoples Democratic Party (PDP), Obokun/Oriade, the constituency where Oluwole Oke comes from, was as a result of Honourable Wole Oke's influence. He has greatly helped a number of people there, so our party could possibly have not won, except there was a tsunami. Talking of the Central/Ife North/Ife South/Ife East federal constituency won by Ajiseloro Abimbola Taofeek of the PDP, the state assembly election was won by the APC.
In Ede North/Ede South/Egbedore federal constituency, where Bamidele Salam of PDP won, PDP members and chieftains worked more for this. However, APC did not lose Egbedore at the state level. The last general election in Osun State was a free and fair one.
The election that brought in Senator Francis Fadahunsi (PDP) representing Osun East was very close, but it was just unfortunate that our party lost at the end. With this majority win, you can be assured that the APC is not losing out in anything. Even in my constituency, both federal and state levels, PDP has no trace, not to talk of stake.