Apathy trails Lagos council elections as residents shun voting
•Say 'We can't continue to waste our time'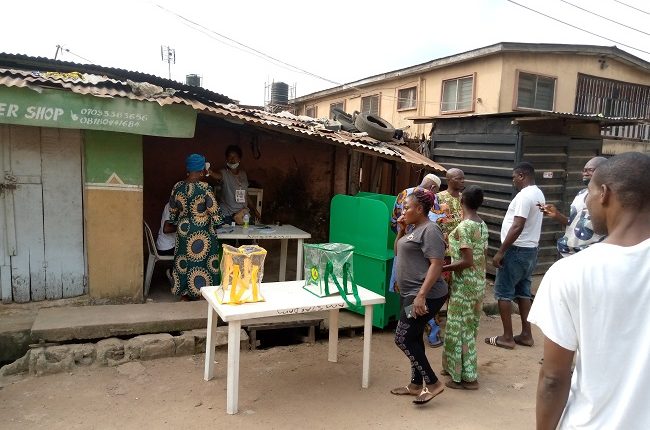 There was very low turnout of voters on Saturday in Lagos as the state held elections to fill all the chairmanship and councillorship positions across the 20 local government and 37 local council development areas of the state.
Though, residents obeyed the movement restriction order by the state government, they shunned voting, which was the reason for the restriction.
They said they did not believe in the local government administration not only in Lagos State but across the federation as the government which is constitutionally described to be the nearest to the people is in reality look like not in existence according to them.
They said to go and exercise their voting right as far as local government election is concerned and particularly in Lagos State where they said voting is not counting is a waste of time to them and therefore of no need.
Some even claimed they didn't know that election would take place until they heard about movement restriction on Friday.
Tribune Online, who monitored the election in some parts of Ifako- Ijaiye LG and Ijaiye-Ojokoro LCDA observed that polling booths were all over the place and in open spaces but were deserted by voters.
In most of the polling units visited such as the two on Ope Ewe Street (033 and 034), two on Ogedengbe Street(003 and 004), and those on Oluyide Street Jankara, Clem Road and so forth, only LAISEC officials and party agents were sighted. Some of the election officials were even seen sleeping at the time of visiting.
Those who came to vote arrived in one and left immediately after they cast their votes as there were no queues let alone experiencing delay.
The security personnel, especially the police officers were stationed in some of the pooling booths at least two polling units interval apparently to forestall posible breach of law and order.
But those who spoke to Tribune Online including people living very close to various polling booths said they rather stayed away and enjoying what they called the compulsory holiday than to be stressing themselves over voting that would not according to them alleviate their sufferings.
At Ope Ewe polling unit 033, for example, only about 11 electorates voted so far as at 12.05pm when our correspondent visited.
It was gathered that few of those, who turned up in almost all the polling units were relatives and friends of the candidates particularly of that of the ruling All Progressives Congress (APC) as well as the officials and active members of the parties.
Though, most of the eligible voters shuned the exercise, elections officials and party agents were remained at various pooling units as at 2.00pm when filling in this report.