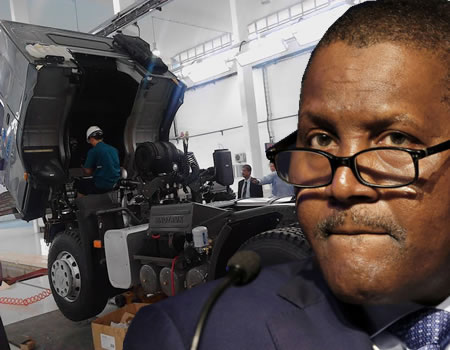 FOLLOWING the revelation of the Minister of Power, Works and Housing, Babatunde Fashola that a section of the Apapa Wharf road will be shut down for one year to enable its construction, some small business owners have revealed that they will be relocating from the seaport town while the road reconstruction is on.
Speaking to Tribune Online exclusively, some small business operators who deal in food items, boutiques and shoes stated that recent traffic gridlock along the Apapa Port access road has impacted negatively on the fortunes of their businesses.
According to Ngozi Amadi, a boutique owner along Burma Road, off Wharf Road, "I cannot imagine how getting to the ports will look like if government goes ahead and close one section of the Apapa Wharf Road for repairs, because even when both sections were open for traffic, coming to shop has been a Herculean task due to the chronic traffic gridlock that has paralysed movement into the Lagos port vicinity in recent times.
"I spend so much taking motorbikes to my shop from Costain area, yet you won't see people come to buy stuffs in your shop as it used to be. Most of our customers are not civil servants that work in these government agencies scattered here in Apapa.
"Our major customers are people who come to the port for businesses like the agents and importers. But when access to the ports became unbearable, we don't see some of them at the ports except once in a week.
"And even when they come around, they are in a hurry to leave due to fear of spending heavily once its evening. To leave Apapa in the afternoon, a bike out of Apapa is between N300 to N500 depending on the time. Once it's in the evening, motorcyclists start charging N1,000 to leave Apapa.
"It's all down to the traffic gridlock that has come to be characterised with Apapa. Now we hear that government wants to permanently shut a section of the road for repairs. It means I might have to look elsewhere to make a living pending when the road repair will be completed."
In another chat, a footwear seller at Burma road, Chidi Alloy explained that most of his colleagues have relocated. In his words, "Before, we used to be two or three that come here to display our footwear. Now you can see its only me. Business has been worst hit following the state of the roads. Its good they repair the road, but I will have to move too because business will be much more difficult during the road repair.
"Hopefully, I should be back when they finish repairing the road or I can come in intermittently if traffic improves during the repair."
During the official signing of Memorandum of Understanding and handing over of the project to the sponsors, the Minister of Works and Housing had revealed that the N4.34 billion project was jointly sponsored by Dangote, Flour Mills companies and the Federal Government.
The two kilometres road construction between the Nigerian Port Authority and end of the bridge is expected to take one-year.
Fashola explained that the use of AG Dangote for the construction was to give the road a better outlook with the use of concrete, adding that the construction was to resolve the challenges usually encountered on the road.
The minister, while commending the sponsors of the project, appealed to road users and stakeholders to persevere.
"We are embarking on what will be the final solution to the massive inconvenience businesses and residents in Apapa and its environment have had to endure for a couple of years.
"I like to acknowledge the leadership role of Dangote and Flour Mills who are operators and have also contributed to make this reality. They are doing this as a total Corporate Responsibility without asking for tax holiday or reduction. We are also working on how to ensure free access to Tin Can Island.
"From today that we are handing over the project, the road will take one year to be completed. We need the cooperation of all the stakeholders. There will be some discomfort on the way but we appeal for tolerance and perseverance. It will continue to get better, people should please ensure more to solve the challenge," he said.
Mr Joseph Makoju from Dangote said it was co-sponsoring the project to provide an enabling environment for businesses in the area.
"This is part of our CSR. Businesses have to engage the community where they operate. Today's CSR has gone to a higher level where we find ourselves embarking on a major infrastructural project," he added.
The Managing Director of Flour Mills, Paul Gbededo, urged the Federal Government to place priority on repairing other sections of Apapa.
He also sought the cooperation of other stakeholders and road users during the construction period.
"Apapa has become a very difficult place to work. With this project that the Federal Government has allowed us to embark on, it will give succour to business. It links the biggest port in Nigeria and should not be taken with levity," he said.