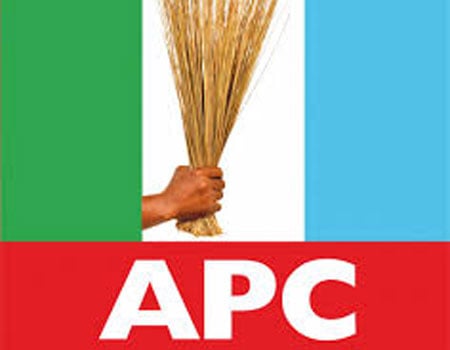 Enugu State Caucus of the All Progressives Congress (APC), has unanimously endorsed the suspension of 20 members of the party by the State Executive Committee for alleged misconduct and anti-party activities.
Among those suspended were the State Deputy Chairman, Chief Adolphus Ude, the Women Leader, Mrs Queen Nwankwo, and Senior Special Assistant to the President on Justice Reforms, Mrs Juliet Ibekaku.
Retired Group Captain Joe Orji, who briefed journalist on Friday in Enugu,said the caucus condemned the invasion of the party office by Ude and his group on Monday, July 3, 2017.
Orji, who is the Chairman of Reconciliation Committee, said that Dr Ben Nwoye remains the State Chairman of the party.
He said that the state caucus endorsed the suspension of the state deputy chairman and 19 others involved in the invasion of the state party office on July 3, 2017.
He said the caucus had directed that the state deputy chairman and other suspended party members involved should be invited to the next meeting of the caucus.
Throwing more light on the outcome of the caucus meeting, Orji warned that the party would not condone any act of misconduct from any member.
He said APC promised change in the country and it must start with party members.
Orji, however, ruled out the expulsion of any party member, saying the APC works with constitution and in accordance with its constitution, the state arm cannot expel anybody.
He maintained that only the National Convention could ratify the expulsion of any party member.
Other party leaders at the caucus meeting included the National Vice Chairman, South-East, Emma Eneukwu, former Senate President, Ken Nnamani, Chief Jim Nwobodo and Ambassador Chris Eze, among others.