Anglican bishops extol Akinfenwa's virtues at 85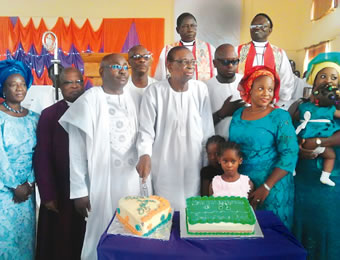 The pioneer Anglican Bishop of Ogbomoso Anglican Diocese, Right Reverend (Professor) M.A.A. Osunade, has described Senator Mojisoluwa Akinfenwa, who marked his 85th birthday, on Sunday, as an accomplished educator, a balanced and proactive individual, who is lovable and a detrabalised Ijesaman.
The cleric said this on Sunday, while speaking at the 85th birthday thanksgiving service of Senator Akinfenwa, held at the Chapel of Grace, LAUTECH, Ogbomoso.
Osunade beseeched God to elongate Akinfenwa's years, being "a simple, humble, honest and a wholesome personality comfortable to work with.
He called Akinfenwa a "Christian and convinced Anglican activist with passion."
Professor Osunade, also thanked Senator Akinfenwa for building the Chapel of Grace for Ogbomoso Anglican Diocese, which he said, is now a primary place of worship for Anglican Students Fellowship (ASF).
Earlier in his ministration, the Bishop of Ogbomoso Anglican Diocese, Right Reverend (Dr) Titus Olayinka, presented Akinfenwa as someone whose life is worthy of emulation.
Bishop Olayinka charged the LAUTECH students who were present at thanksgiving service and others, to ensure they commit themselves to excellence and be encouraged by Senator's Akinfenwa's vision for the youths, which is to serve God and be excellent in their studies.
Senator Akinfenwa, showing his appreciation to the congregation for the honour bestowed on him, gave gratitude to God for the opportunity to serve Him and build a sanctuary for His worship.
Dignitaries present on the occasion included Akinla of Erin Ijesa, Oba Isaac Adeyeba Ayeni, Aale of Oke-Elerin, Oba Samuel Amoo, former governor of Oyo State, Retired Major General Oladayo Popoola (retd), Anglican bishops and others.