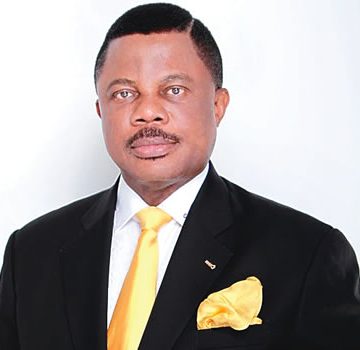 Incumbent  Anambra state governor, Willie Obiano on Tuesday stormed the All Progressives Grand Alliance, (APGA) national secretariat to pick the party Expression of Interest and Nomination Forms, ahead of the election fixed for November 14, 2017.
Speaking with newsmen, Governor Obiano declared that he was seeking fresh mandate to improve on the feat he has achieved in the last three years.
He said: ''By that I mean by the time I leave office in the next four and half years,  Anambra will be like Lagos. It will be self sufficient and therefore whatever comes from Abuja will be additional, that is the whole objective. And we are doing that in Agriculture, in trade and Commerce, in Oil and Gas,  industrialisation and our Airport will be up and running in the next three years.
"Security will be critical where people will sleep with their two eyes closed because I will be awake to make sure they sleep well.
Agriculture will be brought to a level unprecedented. We are going to be number one state Agriculture in Nigeria purely base on what we are doing now, you know we have Anambra rice."
The Anambra state governor dismissed the  vow of  the leader of  the separatist group, Independent People of Biafra, (IPOB), Nnamdi Kanu that the scheduled governorship election would be truncated by his group.
Governor Obiano said well meaning stakeholders in the state and the Anambra electorate were  determined to exercise their franchise.
"That isn't correct. The fellow you mentioned did not say there will not be any election. By the way,  yesterday (Monday) you would have heard the war  veterans who met with me, these are the people who fought the war, 87 of them. They were at the lodge to meet me and what they said was that they will support the election and they have endorsed my election on the second term journey.
''The leader of that group, General  Lathucia, most of you should know him, is the brain in IPOB, so that comment that election won't take place in Anambra, let me begin to repudiate  that now. They didn't say that there won't  be election in Anambra, of course nobody can stop election in Anambra when INEC has already mapped out time table.
''We would not even allow anybody to do that, to stop election in Anambra state, we won't allow that.''
Speaking on last weekend killing of innocent worshippers by unknown gunmen who stormed a Catholic church at Ozubulu community in the State, governor Obiano restated his government assurance that those behind the killings would be apprehended and brought to face the law.
"Let me make this point: Ozubulu killings is not the kind of terrorism you used to know, it isn't by Boko Haram or anybody. Again it is not by people agitating for separation.
''It is a feud between two gangsters that live outside Nigeria. They killed themselves over there and they decided to come home and both of them are from that village where the church was built. We have picked up some guys and very soon, I'm very confident  that we are going to pick up the guy that did the killings dead or  alive.''