Amotekun arrests five suspected criminals in Ekiti
• I stole electric cables to raise money for my school fees ― UNIJOS law student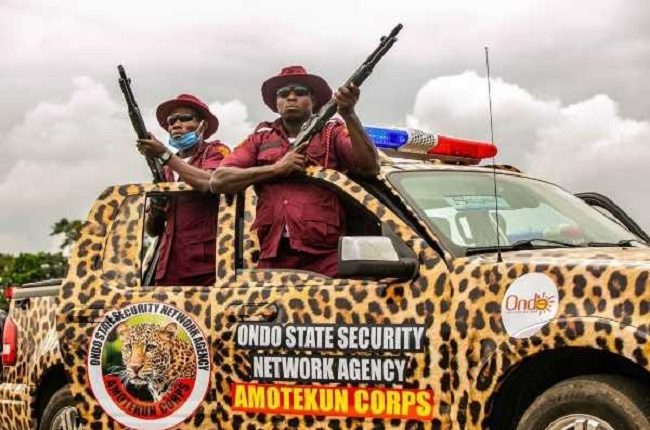 The Ekiti State security network popularly known as Amotekun corps has arrested five suspects in connection with various crimes in the state.
Parading the suspects on Monday, the Amotekun corps commander, Brig. Gen Joe Komolafe (retd) said four of the suspects were arrested in connection with electric cable theft in Ilupeju, Oye local government area of the state last week Thursday.
He added that the other suspect was arrested in the state capital after he was cut in the act of stealing a motorcycle alongside his fleeing colleague.
According to him, the suspects were promptly arrested after complaints from members of the public on the activities of the criminals.
Komolafe said, " The three suspects left Ado-Ekiti to storm a building in Ilupeju where they stole all the electric cables in the house.
"The people around the area suspected their movements and of course the bag they are carrying. The people raised the alarm and we were called to the place. We searched them and we discovered the cables in the bag where they confessed to the crime.
"The other suspect was arrested when he was trying to steal a motorcycle at about 9:30 pm on Friday. We got the distress call and unfortunately , we arrested him in the process and his friend fled."
One of the suspects, 18-year-old law student of the University of Jos said he was involved in the crime of stealing electric cables to raise money for his school fees.
The suspect simply identified as Ojo noted that the recent killings in Jos, the Plateau state capital and the subsequent closure of the university forced him to relocate to Ekiti.
He said, " I lost my father years ago and my mother has stopped financing my education in the University of Jos after going with another man. I am a law student in 300-level and following the recent crisis in Jos, the school was closed and I decided to come Ekiti to 'hustle' for money to pay my school fees.
"I have never involved in any crime in my life and I regret doing this. I want the government to have mercy on me and allow me return to my education. I want to be a lawyer."
The Amotekun commander advised parents to monitor their wards and be involved in their development so as for them to achieve their potentials in the future.
YOU SHOULD NOT MISS THESE HEADLINES FROM NIGERIAN TRIBUNE
Buhari Urges MTN For Quality Service, Downward Price Review In Cost Of Data, Other Services
President Muhammadu Buhari Friday at State House Abuja urged the MTN Group to make the available top-of-the-range service to its Nigerian subscribers… Amotekun arrests five suspected criminals in Ekiti Amotekun arrests five suspected criminals in Ekiti Amotekun arrests five suspected criminals in Ekiti Amotekun arrests five suspected criminals in Ekiti.