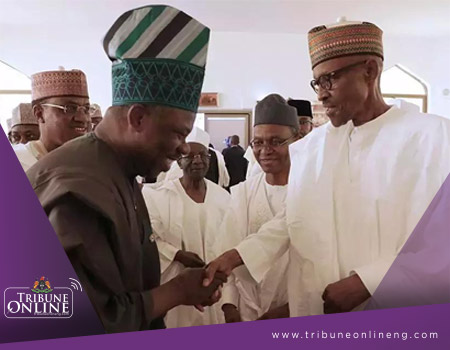 Governor Ibikunle Amosun of Ogun State on Thursday met with President Muhammadu Buhari at the presidential villa, Abuja, on Thursday, telling reporters afterwards that he has no hand in whatever the National Chairman of the All Progressive Congress (APC), Adams Oshiomhole, May have been going through.
The party boss was reported to have recently been the guest of the Department of State Services (DSS) over unspecified corruption allegations.
ALSO READ: Imposition of candidates, problem of Ogun APC ― Akinola
Amosun, who had been having a running battle with the party chairmen over Ogun State APC gubernatorial candidate, was reacting to a question linking him and his Imo state counterpart, Rochas Okorocha, to the EFCC's invitation of the former Edo State Governor.
He said: "I think you are probably giving me an oversight role and I am not a security person. So, clearly, I think that question will not be for me.
"I don't have to hide under a finger to fight. If there is a need for me to put my views across, you know me by now that I will do it."
He also deflected comments on Oshiomhole's reported flight from the country, saying: "I have told you those things are beyond my pedigree and you are asking me questions that I am not well suited for.
"The one that I have to talk about we have said it loud and clear that it doesn't even need to add anything."