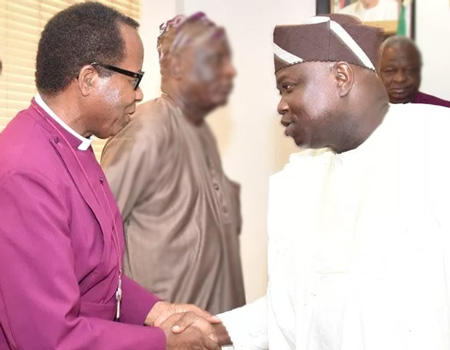 BISHOP of Lagos Diocese, Church of Nigeria (Anglican Communion), Most Rev. Ephraim Ademowo, on Monday lauded Lagos State governor, Mr Akinwunmi Ambode, for result-oriented policies and massive infrastructural renewal drive across the state, saying his re-election is already a done deal, come 2019.
Ademowo said this while speaking at the opening ceremony of the third session of the 33rd Synod of the Diocese held at Our Saviours Church, Tafawa Balewa Square (TBS), noting that the excellent achievements of Governor Ambode in office in the last three years were visible to all, adding that his second term was already a foregone conclusion.
The respected clergyman, who is retiring soon, said: "We have talked about your (Governor's) endorsement for a second term last year and so it is a faith accomplish; it is a done deal; it is not negotiable; it is not debatable.
"We are enthused, happy and excited. We want to appreciate you; we want to celebrate you; we want to thank God for the way God is using you in this State and beyond.
"We could see things for ourselves; the whole state has been opened up. Even where we have our retirement house, anytime I am in the vehicle, sometimes I don't even know when we would get there because the road is now something else. I want to thank you for the great work that you are doing in this State and I want to assure you of our prayers," Ademowo said.
The Bishop described Lagos State governor as a workaholic, trailblazer and an indefatigable personality whose life of humility, doggedness and commitment to the growth of Lagos was unrivalled.
Ademowo, while urging members of the church to go all out to get their Permanent Voters Card (PVCs), said it was important for them to do so in order to participate in the forthcoming general elections and elect the leaders of their choice.
"We know who we are voting for and so there is no perambulation; we know where we are going but we need to have our PVCs. Mummy and I will vote so all of us must ensure we get our PVCs to vote," Ademowo said.
Governor Ambode, in his response, said the country was at a critical time when all hands must be on deck to ensure the process of choosing leaders in 2019 resulted in sustainable growth and good governance for the people.
According to the governor, the season calls for every stakeholder in the future of the Nigerian project, religious leaders inclusive, to rise up to be counted and make their voices heard especially on the need for people to get their PVCs and shun any act inimical to peace.
"We need to educate Nigerians on the need to participate in the political process through registration for the Permanent Voter Cards (PVCs). Your PVC is the instrument and the power every eligible citizen has to express themselves in choosing the leaders in whose hands they wish to entrust the resources and the future of our country.
"The Church and indeed all our religious leaders have a critical role to play especially at this point in time to place special emphasis on the message of hope, peace, brotherliness, unity, integrity and tolerance.
"We must shun all tendencies that could aggravate whatever challenges we might be experiencing at the moment because these are only temporary. We shall surmount them and our nation shall become great again, by the Grace of God and through our own hard work and prayers," Governor Ambode said.
He said as a government, his administration would continue to promote an atmosphere for everyone to practice his or her religion in the state without any fear of discrimination, just as he pledged commitment to the mission of making the economy work for all, creating opportunities for everyone to fully actualise their potentials and ensuring security of lives and property of all Lagosians.
"Every one of us has a stake in this country. Every one of us has a voice. Let us stand up and join hands to make our country and our state great. We owe it to ourselves and generations coming after us," the governor said.
Besides, Governor Ambode thanked Ademowo for the positive impact which his tenure in the last 17 years as Bishop of Lagos Diocese had on the church and the state, saying it was on record the bishop contributed immensely to the peace and tranquillity being enjoyed in the state.
"Under Dr Ademowo's leadership, the state government has received immense support and prayers from the church. This robust relationship has contributed immensely to the peace and tranquillity being enjoyed in our state with people of diverse faiths living in harmony and mutual understanding.
"Though you will be retiring soon, I have no doubt that a new chapter is set to be opened for you in the service of God. My prayer for you is in the book of Hebrews 6:10 which says "For God is not unjust to forget your work and labour of love which you have shown toward His name, in that you have ministered to the saints, and do minister." As you have laboured in His vineyard, He will surely reward you abundantly," Governor Ambode said.