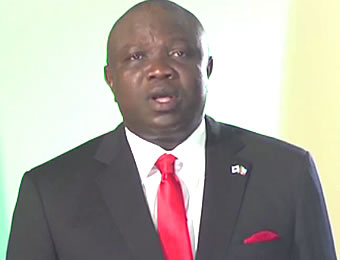 LAGOS State governor, Mr Akinwunmi Ambode, has expressed sadness over the death of a Commissioner of the Lagos State Independent Electoral Commission (LASIEC), Mr Abdullateef Raji, who passed on early hours of Monday at the age of 54.
Raji was a former Special Adviser on Information and Strategy between 2011 and 2015.
Governor Ambode, in a statement signed by his Chief Press Secretary (CPS), Mr. Habib Aruna, described the deceased as a seasoned media strategist who was always committed to serve in any capacity he found himself.
According to him, "Raji in no small way contributed to the success of the last local government elections in Lagos where he served as one of the LASIEC commissioners. He was ever committed to contribute his quota in any office he was appointed to serve.
"His demise has come as a rude shock to us as he died in the line of duty. He was a brilliant scholar and an astute writer of repute, who used his pen to enhance the narrative of rule of law and democracy in Nigeria."
While praying for the peaceful repose of his soul, Governor Ambode urged his family to draw strength from the fact that he made meaningful impact during his lifetime.
"On behalf of my family and the people of Lagos state, I want to express our heartfelt condolence to the family of Lateef Raji on this great and irreparable loss. He will be sorely missed," he said.
Also, the All Progressives Congress (APC), Lagos State chapter, mourned the passage of Raji, describing the deceased as a loyal, dedicated and strong pillar in APC, who it said was
Irreplaceable.
"It is with heavy hearts, deep sorrows and tears that we mourn the devastating loss of our loyal, dedicated and strong pillar in APC, Hon Lateef Raji who died on Sunday August 13 2017.
"Lateef Raji was a dedicated servant of our great Party whether in AD, AC, ACN or APC. He was a progressive par excellence, a thinker, scholar and a great soldier of ideas in politics," the party in a release issued by its spokesperson, Mr Joe Igbokwe.
The party, while recalling that Lateef served as Special Adviser Information & Strategy under former Governor Babatunde Raji Fashola "and gave a powerful and excellent good account of himself in actions and deeds," said he died after working with others to conclude the recent Lagos Local Government elections conducted by LASIEC.
"Lagos APC sympathises with the families of Alhaji Lateef Raji and ask Allah, the most beneficent, the most compassionate, and the most merciful to give them the courage and fortitude to bear the great loss.
"Lagos APC will definitely miss Lateef Raji's deep intellectual disposition, intelligence, energy and integrity he brings to bear in the discharge of any assignment given to him," the party said.