Alleged N2.1bn pension fraud: Pay Maina 5 per cent of N1.3 trillion recovered loots, family tells Buhari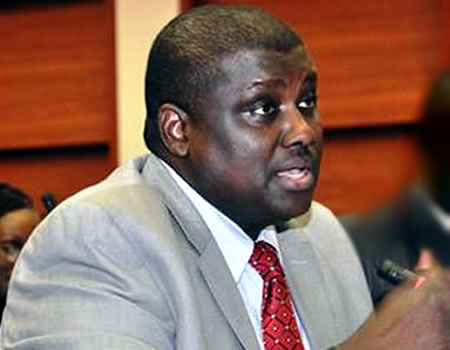 The family of former Chairman of the defunct Pension Reform Task Team, Abdulrasheed Maina, on Tuesday, tasked President Muhammadu Buhari's administration not to renege its promises of paying five per cent of N1.3 trillion being helped recovered by its kinsman from looters before his incarceration, saying available record showed that he had assisted current administration to recover stolen funds.
A statement authorised by Abdullahi Usman, for Abdulrasheed Maina's family, a copy of which was made available to the Tribune Online in Abuja, said with the facts and genuine information in possession of Maina, persecuting him is more like protecting the real pension thieves in Nigeria.
The family frowned that Maina had secured five court judgements in his favour that were yet to be enforced, even against the Economic and Financial Crimes Commission (EFCC) who has been restricted from harassing him.
According to the family: "Based on available records, Maina is known to have assisted the President Muhammad Buhari's administration in recovering N1.3 trillion from looters for which a promised 5% is yet to be paid to him. Maina alone under the Department of State Services (DSS) office recovered the funds, what the entire workforce of ICPC and EFCC cannot boast of since their inauguration as anti-corruption agencies in 2000 and 2002 respectively."
"The anti-graft umpire in the country should be working with Maina to secure convictions of the real pensions looters, both those under prosecution and those not identified and brought to book by the anti-graft commission.
ALSO READ: Senate to probe power sector
"It was evident that while Maina served as Customs, Immigration and Prisons Office, CIPPO boss, it was the best-run pension office at that time owing to the software he developed at no cost to the government. This software streamlined the processes which the then minister of interior used to administer that office with the lowest budget and the highest number of pensioners.
"More so, in 2012 while briefing the National Economic Council, Maina revealed that pensioners were denied payment in Nigeria not because there were no adequate funds budgeted for it, but due to systemic large-scale corrupt practices shrouded in secrecy and conspiracy of a sinister pension mafia that include Senators, Members of House of Reps, Heads of Services some Permanent Secretaries, Directors and Administrators.
"A Pension Reform Task Team was inaugurated by President Jonathan under the leadership of Maina with senior-level leadership from ICPC, Immigration, EFCC, Police, NIA, DSS, Prisons, Customs, Accountant General's office, Attorney General's office, Public Complaint Commission and Head of Service's office. They were tasked with the duty of reforming the pension administration system," the family stated.
The statement said the agencies represented in Maina's team exclusively executed and handled recoveries and not Maina as an individual but he supplied intelligence and technical know-how.
The family continued: "All members of the task team are alive but none has been removed from his office and none is being persecuted or victimised with regards pension funds.
"It is clear that Maina's sin is that he insisted on blocking the leakage that led to the monthly stealing of N6 billion from the Police pension Office and N4.725bn from the office of the Head of Service respectively," the family added.