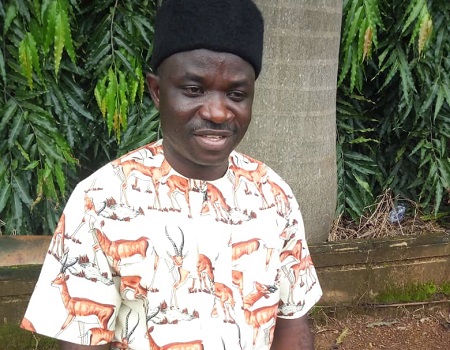 THE local government chairman of Afikpo South Dr Eni Uduma Chima has called on the Inspector General of police Ibrahim Idris, National security adviser and DSS to investigate the kidnap accusation levelled against him by his political enemies in his council area.
Eni Uduma, while briefing journalists at his residential Home in Abakaliki, pleaded with the heads of security department in the country, to dig out the truth of the false accusation of kidnapping and car snatching levelled on him by a Chieftain of the All Progressive Congress (APC) from his area.
Chima who addressed journalists after his release said "I am crying out to the Inspector-General of Police, the National Security Adviser, the President and Commander in Chief of the Armed Forces, DSS to stop politicians from using their men to harass their perceived opponents.
ALSO READ: Ekiti lawmaker shot by unknown gunmen dies
"A case such as kidnapping is very serious, it is a capital offence and the penalty is death by hanging in Ebonyi state and when you now use it so frivolously and call out police numbering over 150 to arrest one particular person, the danger is when there is need for police to troop out en masse, they may take it for granted that it is one of those political abuses of the apparatus of state, phantom allegations that are not existence and so their reaction time may not be swift, that is the danger.
"Another danger is that when you keep framing people up, it will get to a time they will develop resistance because the police or any apparatus of the state get and sustain their legitimacy from the law, doing what is lawful. If they are no more decent and they are used as tools in the hands of desperate and unpopular politicians, they will lose their legitimacy; people may no more volunteer information to them or cooperate with them and at a time people may develop resistance to them up to the extent of them not being able to do arrests.
"There is no number of policemen that can arrest the entire mass of people when they rise against the state, so that situation should be avoided. I call on the Inspector- General of Police and the DSS to take up this matter and cause the people who brought false and frivolous allegations, people who are making serious matter like kidnapping very light to book. This is three months to election date and people are heating up the polity. When the election is by the corner, what will happen? We call on the IGP and DSS to use this one as an example".
Recall that council boss was last week alleged that his life has been threatened for refusing to allow posters on his street lights in his council area, by a stakeholder of the All Progressive Congress in his area.
Eni, who stated it categorically that he will never support the governorship candidate of the All Progressive Congress APC from his area, irrespective of their trait, maintained that he can never be intimidated by any politician who feel the need to use police on him for not supporting his political ambition.