Alleged attack on Oba Akinropo: Iwo traditional council, Ogbaagba natives demand Oluwo's suspension
•My intent to defend helpless poor will vindicate me —Oluwo •Crisis unfortunate —Osun govt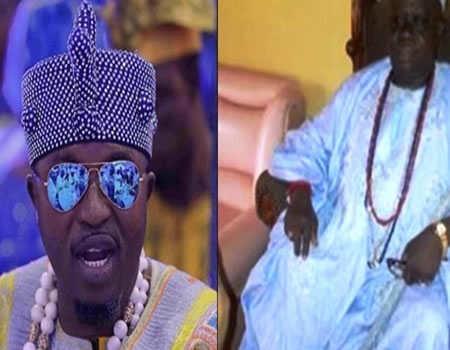 THE controversy generated over last Friday's alleged attack on the Agbowu of Ogbaagba, Oba Dhikirulai Akinropo by the Oluwo of Iwo in Osun State, Oba Abdulrasheed Adewale Akanbi, took a new dimension on Monday when natives of Ogbaagba protested to the office of the state governor, Mr Gboyega Oyetola, demanding Oluwo's immediate suspension.
The protesters described the alleged assault on Oba Akinropo as barbaric and uncivil, contending that the state government should, as a matter of urgency, suspend Oba Akanbi to serve as a deterrent to him.
This is just as the Iwo Traditional Council, in a communique issued at the end of its emergency meeting, also called for the immediate suspension of the Oluwo.
The protesting natives of Ogbaagba had stormed the Bola Ige House, Abere, where the office of the governor is located around 10.00 a.m., displaying various placards to condemn what they termed unwarranted and brutish attack on Oba Akinropo by the Oluwo at the office of Assistant Inspector General (AIG) of Police, Zone 11, Mr Bashir Makama.
The demonstrators, who also included residents of Ayedire and Olaoluwa local government areas and part of Iwo Local Government Area, contended that the conduct of Oba Akanbi was a gross disrespect to the traditional institution and culture of Yoruba race.
Spokesperson for the protesters and a former member of the Osun State House of Assembly, Honourable Sikiru Ogunlade Araoye, argued that Oyetola's indifference on the issue could trigger a communal clash between Iwo and Ogbaagba, whose traditional ruler was allegedly assaulted.
ALSO READ: In Iwo, traditional rulers, others unite for peace, prosperity
Araoye said: "We are here to protest peacefully before the governor to remind him that his silence is not golden. The governor cannot continue to keep mum on this issue. If a traditional ruler like Oluwo has suddenly turned himself to a boxer, beating his fellow monarch, he deserves to be punished. So, we, the people of Iwo, Ayedire and Olaoluwa local governments demand the suspension of the Oluwo."
In his remark, one of the protesters, who is also the Mosigbaola of Ile-Ogbo kingdom, Chief Popoola Olawore, decried Oluwo's action and called for his dethronement.
Also, the Iwo Traditional Council, in its communiqué, which was copied to the state governor, the Department of State Security (DSS), Osun State Ministry of Justice, Ooni of Ife, Oba Adeyeye Enitan Ogunwus; Speaker, Osun State House of Assembly and Ministry of Local Government and Chieftaincy Matters, said the government must take action on Oluwo's alleged attack on Oba Akinropo.
The communique reads: "We call on the state governor, Mr Gboyega Oyetola to immediately suspend Oba Adewale Akanbi from office as the Oluwo of Iwo and chairman of Iwo Traditional Council for engaging in physical assault in public place, more so against a fellow Oba, an act unbecoming of the exalted office of an Oba.
"The police should be encouraged to conclude their investigation and arraign Oba Akanbi at the appropriate court immediately, while government should create separate traditional councils for Ayedire Local Government Council and Ola-Oluwa Local Government."
"That government should kindly approve all pending applications at the Ministry of Local Government Bureau of Chieftaincy for prescribed authorities for the Part II Obas from Iwo Zone, which applications are being frustrated by the intransigence of Oba Akanbi.
"That all the Obas which Oba Akanbi are fighting are recognised Part II beaded crown wearers, like Oba Akanbi, contrary to his erroneous belief that he owns all our land."
The communique was signed by the Agbowu of Ogbaagba, Oba Dhikirulai Akinropo; Onifin of Ikonifin, Oba Solomon Oyewo; Olu of Ile-Ogbo, Oba Habeeb Adetoyese; Olowu of Kuta, Oba Hammed Adekunle Oyelude; Olupo of Oluponna, Oba Oyeleso Oyebamiji; Olubode of Bode-Osi, Oba Abioye Oyewale; Ola of Ajagunlaase, Oba Ismaila Gbadamosi; Oluwo of Iwo-Oke, Oba Abdulkadir Olatule; Onigege of Igege, Oba Kazeem Adio Orioye, among others.
Meanwhile, the Oluwo, Oba Akanbi, has called on his critics to leave him to God and stop judging him on social media, saying his frosty relationship with some traditional rulers in Iwo, Ola-Oluwa and Ayedire local government areas of the state was based on the hardship some of the traditional rulers were allegedly inflicted on their subjects.
In a press release which he personally signed, the Oluwo lamented that many of "these monarchs are lording themselves over their subjects, taking their family lands and selling their inheritance with impunity."
ALSO READ: Osun is sick — Oluwo
Oba Akanbi added that the traditional rulers had gone as far as arresting and imprisoning anyone in the families who tried to obstruct them from selling their heritage.
He said that the incident at the peace meeting was a gang-up to twist his hands backwards and prevent him from defending the poor people they were oppressing with impunity.
"It was a case of the oppressor fighting back against the defender of the oppressed. In the course of the meeting, the Ologbaagba tried to play out their orchestrated plan when he tried to poke his walking stick in my eyes and I quickly responded to prevent him from achieving their plan to turn me to a blind king," he said.
The Oluwo disclosed that his palace had been inundated with complaints of how their innocent subjects were sent to prison over landed property belonging to their families, adding that he found the complaints to be genuine after his investigations.
Oba Akanbi also said that he had, on several occasions, invited the monarchs and appealed to them to protect the future of their children by halting frequent and indiscriminate land sale, adding that they turned deaf ear to his appeal and instead recruited touts to unleash mayhem on their subjects.
Meanwhile, the state government on Monday described as unfortunate and avoidable the face-off between Oba Akanbi and Oba Akinropo.
The government said it was aware that the state traditional council was already looking into the matter.
It further stated that traditional rulers ought to protect and preserve the sacredness of traditional institutions.
In a statement signed by the state's Commissioner for Information and Civic Orientation, Mrs Funke Egbemode, the government further noted that situations, where royal fathers engage in a public display of temperament, do not edify the revered stools of our forebears.