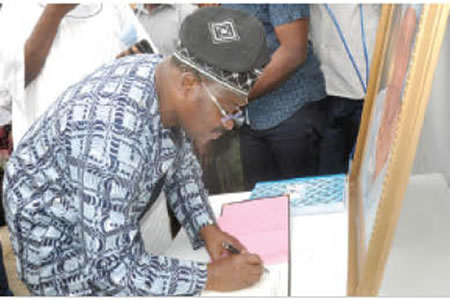 DIGNATARIES from all walks of life paid glowing tributes to the Iyalode of Ibadanland, Alhaja Chief Mrs Aminat Abiodun, who died on in the early hours of Saturday afternoon at 94 years.
The most influential woman in Ibadan, Sunday Tribune learnt, would have celebrated her 94th birthday on December 24, 2018.
Due to age, the businesswoman had limited her public appearance, and mostly to traditional engagements.
As the news filtered into town, top dignitaries in the city started trooping to her residence at Olowo Kekere, Basorun, Ibadan.
As Iyalode, she was the representative of women in the Olubadan-in-Council which has 11 members with the Olubadan as the head and 10 other High Chiefs,, including the Iyalode.
Alhaja Abiodun became the Iyalode in August, 2007 following the death of Chief Mrs Wuraola Akintola and was installed as the 13th Iyalode of Ibadanland on October 19, 2007.
She joined the Iyalode line in 1971 and rose to the peak of the female traditional line in Ibadan almost 36 years after she began the journey.
A check on the 25 persons on Iyalode chieftaincy title, include the Otun Iyalode, Chief (Mrs) G.A. Vaughan  is next to Alhaja Abiodun while the last three positions are currently vacant.
As the family gathered, a traditional message was sent to the Olubadan of Ibadan, Oba Saliu Adetunji, to inform him of Chief Abiodun's demise.
Her children,  led by the first born, Alhaja Asagidigbi, who described the late Iyalode as a very caring mother, led other siblings to receive sympathisers, including the state governor, Senator Ajimobi to the compound around 4:34 pm, in company of some members of the state executive council.
Some of the members of the state executive on the entourage of Governor Ajimobi include the Secretary to the State Government, Alhaji Olalekan Alli, Head of Service, Mrs Lawunmi Ogunesan, some commissioners, Chief Lateef Oyelade and Alhaji LamidiAjadi among others.
Ajimobi then held a brief meeting with the some members of the family on the burial ceremony which comes up today by 4.00 p.m.
After the brief meeting, Senator Ajimobi described the late Iyalode as a mother of all, signed the condolence register.
He wrote: "Our dear mother, Iyalode of Ibadan land lived an exemplary live worthy of emulation. We shall miss your royalty, your imposing and attractive and beautiful carriage. May your gentle soul rest in perfect peace."
Her first born, Alhaja Asagidigbi described her as "a very good mother. She really worked hard and was very nice to everyone."
Also speaking, Chief Bode Ayorinde (SAN), and the governorship candidate of the Social Democratic party (SDP) in Oyo State, described her death "as an end of an era."
Ayorinde said "It's a shock to all of us although she was well advanced in age. But it was so shocking and we're all very sad in Ibadanland. We know that we have lost a mother, an icon, it is actually the end of an era. It is shocking but we bless God for her life, she has lived a good life, served her community, she served her God.  Her life is worthy of emulation."
A popular Islamic leader, Professor Kamil Oloso, lived very close to the late Iyalode's house,in his tributes, said: "Mama was an icon. She was mama of all Yorubas, even in diaspora. They acknowledged that she was their mother. Avery close neighbour, confidant and younger husband. She was very nice to everybody and very honest to a fault and truthful. That is one character Mama distinguished herself with.
"She will call a spade, a spade in the face of everything, that's why she was very much beloved. As Iyalode of Ibadanland and the only woman in the council of traditional chiefs of Ibadan, if there is any misunderstanding, everybody will look up to Mama to find a solution and she will give the cogent resolution to whatever problems. Many times, she had settled rifts between the Olubadan side and the Balogun side. She was a bridge between the Balogun side and the Olubadan side. There was never any concrete matter discuss and arrived at without Mama's contribution. Everybody will miss her for her transparency, honesty and truthfulness."